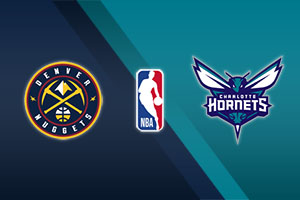 The Denver Nuggets (23-16, 5th) are speeding up to cover the lost ground in the West division standing! They are coming from a victory at home against the Indiana Pacers (121-106), with Jokic finishing the games with the emphatic 32 points and 14 rebounds, proving once again that he is the main reason why the Nuggets keep winning even on their bad nights. The Nuggets' star – playmaker Jamal Marei (16 points) didn't show much of an appetite during the game, and therefore substantial help was required by both Burton (20 points) and Porter Jr. (20 points). Morris (G, 10.4 points, 3.4 assists) and Harris (G, 9.7 points) are out again in what proves to be a constant headache for the Nuggets' bench.
The Charlotte Hornets are in excellent condition, coming from four wins in a row, which brought them into the Eastern Conference's top eight to the 5th position with a 20-18 record. Their last «victim», the Sacramento Kings (122-116), fought hard till the end but didn't make it. «Scary» Terry Rozier (26 points) was exceptional again, but Hayward is the team's undisputed leader and added another 25 points in that game. The Hornets play with a consistently complete roster in their last few games.
Our free Denver Nuggets vs. Charlotte Hornets tip: Total Points, OVER 226.5 Bet Now!
Denver Nuggets vs. Charlotte Hornets Odds
Tip-off
Home Team
Away Team
Book
Home Odds
Away Odds
Home Win
Away Win
Under
Over
This basketball odds comparison table refreshes every two minutes.
18/03 02:00
Denver Nuggets
Denver NuggetsDEN
vs
Charlotte Hornets
Charlotte HornetsCHA
1.38
1.37▲
3.15
3.20▼
-6.5 1.95
-6.5 1.91▲
-6.5 1.87
-6.5 1.91▼
O 228.5 1.91
U 228.5 1.91
1.4
3.05
-6.5 1.91
-6.5 1.91
O 229.5 1.94
U 229.5 1.88
1.36
3.2
-6.5 1.91
-6.5 1.91
O 228.5 1.87
U 228.5 1.95
Please toggle your mobile phone into landscape mode to see additional content.
Basketball Betting Odds, Tips and Predictions