Euroleague 2012/13
The eight teams playing out in the qualifying round were:
Unics Kazan from Russia
Ratiopharm Ulm from Germany
Le Mans Sarthe Basket from France
BC Donetsk from Ukraine
CEZ Basketball Nymburk from the Czech Republic
Telenet BC Oostende from Belgium
Mapooro Cantu from Italy
PBC Lukoil Academic from Bulgaria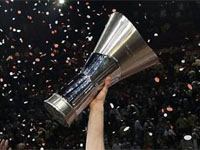 In the quarterfinal matches, Unics Kazan defeated Ratiopharm Ulm by 91-73. Le Mans Sarthe Basket defeated BC Donetsk 61-55. CEZ Basketball Nymbruk defeated Telenet BC Oostende by 83-65 and Mapooro Cantu defeated PBC Lukoil Academic by 87-79.
In the semi-finals, Le Mans Sarthe Basket defeated Unics Kazan by 86-78 and Mapooro Cantu defeated CEZ Basketball Nymbruk by 89-83. The third qualifying round was played out between Mapooro Cantu and Le Mans Sarthe Basket with Mapooro Cantu winning 80-66. This win granted Mapooro Cantu access to the Euroleague 2012/13 season.
Group A
Group B
Group C
Group D
Real Madrid
Maccabi Electra Tel Aviv
Zalgiris Kaunas
FC Barcelona Regal
BC Khimki
Unicaja Malaga
Olympiacos Piraeus
CSKA Moscow
Panathinaikos Athens
Montepaschi Siena
Anadolu Efes Istanbul
Besiktas JK Istanbul
Fenerbahce Ulker Istanbul
ALBA Berlin
Caja Laboral
Brose Baskets Bamberg
Union Olimpija Ljubljana
Elan Chalon
Emporio Armani Milano
Lietuvos Rytas
Mapooro Cantu
Asseco Procom Gdynia
KK Cedevita
Partizan mt:s Belgrade
The Top 16 for the 2012/13 season was set up as:
Group A:
CSKA Moscow
Real Madrid
Anadolu Efes Istanbul
Panathinaikos Athens
Unicaja Malaga
Zalgiris Kaunas
ALBA Berlin
Brose Baskets Bamberg
Group B:
FC Barcelona Regal
Olympiacos Piraeus
Maccabi Electra Tel Aviv
Caja Laboral
BC Khimki
Montepaschi Siena
Besiktas JK Istanbul
Fenerbahce Ulker Istanbul
The top four from each group advanced to the quarter-finals which were played out in a best of five format. In the quarter-finals:
CSKA Moscow defeated Caja Laboral by 3 games to 1.
Olympiacos Piraeus defeated Anadolu Efes Istanbul by 3 games to 2.
FC Barcelona Regal defeated Panathinaikos by 3 games to 2.
Real Madrid defeated Maccabi Electra Tel Aviv by 3 games to 0.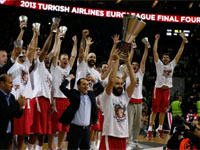 The four winning teams made their way through to the Final Four. The Final Four for the 2012/13 season was held in London at the O2 Arena. The format saw teams play off against each in a single game format.
Olympiacos defeated CSKA Moscow by 69 to 52.
Real Madrid defeated FC Barcelona Regal by 74 to 67.
The two losing teams progressed to the Third and Fourth Playoff while the two winning teams headed to the final.
CSKA Moscow defeated FC Barcelona Regal by 74 to 73, to clinch third place.
In the final, Olympiacos defeated Real Madrid by 100 to 88. This saw Olympiacos retain their title.