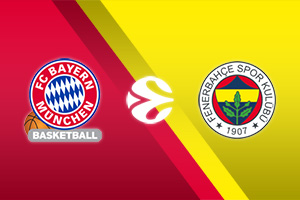 Tonight's game, which will be played in the Audi Dome in Munich, will be quite a tough match-up for coach Dimitris Itoudis and his team. Traveling from Istanbul, they will have to face coach Andrea Trinchieri who's still with the monarchs.
The German side had a good domestic start with two wins. Bayern Munich beat Ratiopharm Ulm (87-80) at home and also managed to grab the "W" against the Frankfurt Skyliners (74-83) on the road. With only wins in the pocket they are looking to start the Euroleague positively. Cassius Winston led the team against Ulm with 25 points, while he added another top scoring game with 23 points against Frankfurt. Winston is definitely a player to keep track off. With Corey Walden and Ognjen Jaramaz adding their share to the stats sheet, this could become an interesting season for FC Bayern Munich Basketball.
Isaac Bonga has a foot injury and is out for tonight's game, while Vladimir Lučić is expected to be playing.
Fenerbahce Beko Istanbul on the other side, saw some players move to new places this summer. They also welcomed some new players and among them is no other than NBA champion Nemanja Bjelica. Unfortunately he will be missing tonight's game, since he hasn't recovered from his injury that also prevented him from playing at EuroBasket. Other notable new players on the roster are Nick Calathes who left FC Barcelona for not agreeing with coach Šarūnas Jasikevičius, Scotty Wilbekin who came over from Maccabi Tel Aviv and Johnathan Motley who only played a mere nine games in the Eurocup last season. Like many other foreign players, he left Lokomotiv Kuban for safety reasons, after Russia invaded Ukraine.
The team from Istanbul had a false start losing the Turkish Super Cup against their biggest rivals Anadolu Efes (72-61). However, the Turks had the opposite start in the Turkish Basketbol Süper Ligi, winning their first and only game so far (78-72) against Bahcesehir Basketbol. Bahcesehir (also from Istanbul, like many top teams in Turkey) are last season's FIBA Europe Cup winners.
Besides Nemanja Bjelica, Fenerbahce has also left Tarik Biberovic (hamstring injury) and Samet Geyik (unknown injury) at home.
Our free Bayern vs. Fenerbahce tip: Total Points, UNDER 150.5 Bet Now!
Fatal error
: Array and string offset access syntax with curly braces is no longer supported in
/opt/bitnami/apache/htdocs/basketballbetting.co.uk/wp-content/themes/basketball-betting-theme/js/get_tipgin_odds.php
on line
238