Totals Betting Guide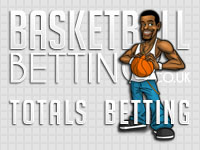 There are many reasons to love basketball and there are many reasons to love betting on basketball games. A major factor in the popularity of basketball betting is the fact that there are so many different options to choose from. One of the most popular forms of basketball betting would have to be Totals betting.
Totals betting with respect to basketball is extremely simple and players are being asked to risk $11 to win $10. Totals is just another name for Covers / Under so if you are more familiar with that term, or you have already studied that page on the site, you will be up to speed with this section. However, it doesn't hurt to go over it again for the Totals term because this is the one that many people will be familiar with.
If you are familiar with Totals betting on other sports, you will be pleased to learn that the basketball market operates in the exact same fashion. The numbers in a basketball game will be much higher than you would expect in a soccer or football game but the underlying principle of what is on offer with a Total bet is the exact same.
Think about a match where Miami Heat is facing off against the New Jersey Nets. If the bet point is declared at 190.5, you have the option to wager on there being 190 points or less scored in the game or 190 points or more scored throughout the game. The final outcome of the game isn't important, nor does it matter who wins or loses, it is just about the number of points on the scoreboard.
When it comes to finding an American sports betting site that has a great reputation and has provided a high level of service and betting options for punters, you have to say that Bovada is one of the best sites for American sports betting fans. It focuses on all the major leagues in North America and it is even licenced in North America, by the Kahanawake Gaming Commission, so if you are looking for a site that provides you with confidence, Bovada should be at the top of your list.
Read our full Bovada review »
Pros
Offers a fantastic range of North American sports betting options
Provides live betting
Offers a lot of promotions
Offers plenty of assistance in getting you started
Live in-game betting options
Cons
Not a great deal of deposit and withdrawal options
Not much focus outside of the US
Please toggle your mobile phone into landscape mode to see additional content.
Examples of Total Betting in basketball
If the final score is Miami Heat 90 – New Jersey Nets 100, there would be 190 points on the board. This would mean an Under bet (on the 190.5 scale) would win while an Over bet on the same scale would lose.
If the final score is Miami Heat 90 – New Jersey Nets 102, there would be 192 points on the board. This would mean an Over bet (on the 190.5 scale) would win while an Under bet on the same scale would lose.
To show that it doesn't matter how the points are allocated, if the final score is Miami Heat 100 – New Jersey Nets 92, there would still be 192 points on the board, even though this time Miami win the game. This score would mean an Over bet (on the 190.5 scale) would win while an Under bet on the same scale would lose.
As a rough guide, a low scoring NCAA game is expected to have a points total of around 120 points. However, a high scoring NBA game can easily reach beyond 200 points so there is a great deal of scope to consider when looking at the basketball totals market.
It is important to stay in touch with this form of betting because bookmakers will often react to the way that the market is behaving. This can be seen in the fact that a bookmaker that receives a maximum bet on a Total bet will traditionally alter the 1.5 point line. This is done to encourage more people to bet in the other way to offset the maximum bet. A bookmaker knows that if they get equality in the bets on either side of the line, they will always come out on top so when it comes to basketball betting, there is a lot of fluidity in the market. If you have the time to watch the market change and develop, there is an opportunity for finding the best value prices.
An example of this would be if there was a game between the Miami Heat and the New Jersey Nets where the points total stood at 190. If a bettor was convinced that the points total would be much higher and placed the maximum bet (traditionally $500 at many sportsbooks and betting sites), the bookmaker would react. They would commonly raise the 190 total to a level of 191.5, which they hope would be enough to see people place an under bet on the market.
With some sites providing live Total betting opportunities, you can stay engaged with this style of basketball bet throughout a match.