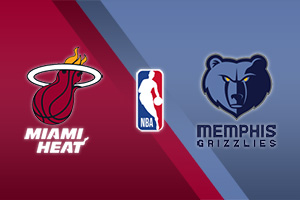 The Heat (14-10) are placed 4th in the Eastern standings, but the truth is that they have not yet stabilized their performance at a high level (5-5 in the last 10 games). There is an excuse for the – excellent – coach Erik Spoelstra and this of course is the injury problems that his team is facing. The best tall player of the Heat, Bam Adebayo (18.7 points, 10.2 rebounds, 3.2 assists) will be absent from the courts at least until mid-January, while guard Victor Oladipo remains out of the battle on a permanent basis. Also, Miami star Jimmy Butler has been suffering from discomfort for the last few days.
On the other hand, the Grizzlies (13-10) climbed to the 4th place in the West, with a 7-3 record in the last 10 games, with four consecutive wins. Head coach Taylor Jenkins does not count (at least until the end of December) on his leader Ja Morant (PG, 24.1 points, 5.6 rebounds, 6.8 assists per game), who is suffering from an injury and this absence is likely to cover all problems of the Heat…
Our free Miami Heat vs. Memphis Grizzlies tip: Money Line, Miami Heat (home) Win Bet Now!
Fatal error
: Array and string offset access syntax with curly braces is no longer supported in
/opt/bitnami/apache/htdocs/basketballbetting.co.uk/wp-content/themes/basketball-betting-theme/js/get_tipgin_odds.php
on line
238