Futures Betting Guide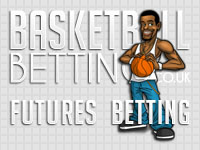 No one can really see into the future, regardless of what clairvoyants and astrologers will tell you. If people could see into the future, there would be no point in having the lottery because the same people would win this week. Of course, it is possible to make predictions on what will happen in the future and with the right analysis, some people will have more success than others in predicting what is going to happen.
Of course, a prediction is just that, not a guarantee and this is why the Futures Market is such a vibrant one when it comes to sports betting.
The Futures Market, or Futures Betting, when used in sports, revolves around placing a long term bet which will be on the outcome of the campaign or an individual bet. Before a season begins, you will find that there is a great range of future bets to choose from. There are future bets for all sports but there are plenty available in basketball and these bets are usually open from the minute that the previous season ends.
Basketball Futures
League
Future Bet
Team
Best Odds
Sportsbook
Eurocup
To Win Outright
Virtus Bologna
2.40
Bet Now
Eurocup
To Win Outright
Joventut
7.00
Bet Now
Eurocup
To Win Outright
Unics Kazan
8.00
Bet Now
Eurocup
To Win Outright
AS Monaco
10.00
Bet Now
Eurocup
To Win Outright
Boulogne - Levallois
13.00
Bet Now
Eurocup
To Win Outright
Lokomotiv Kuban Krasnodar
13.00
Bet Now
Eurocup
To Win Outright
Partizan
19.00
Bet Now
Eurocup
To Win Outright
BC Andorra
21.00
Bet Now
Eurocup
To Win Outright
Obradoiro CAB
21.00
Bet Now
Eurocup
To Win Outright
Trento
26.00
Bet Now
Please toggle your mobile phone into landscape mode to see additional content.
As an example, as soon as the Miami Heat clinched the NBA Championship for 2013, you would have been able to bet on who would win the 2014 NBA Championship. Similarly, from the moment that the Louisville Cardinals clinched the 2013 NCAA Mens Division 1 Basketball Tournament, it was possible to bet on which team would clinch the 2014 title.
While most people consider future best to be about teams and the major tournaments, there are a number of future bets available to place on the achievements of individuals. When it comes to future bets in sports, there are three main options with regards to when they are available:
Some future bets are only on offer before the season begins
Some future bets are only on offer until a designated point of the season
Some future bets are on offer for the whole of the campaign
When you are calculating future bets and which ones you wish to place, there is a need to handicap the team or individual you wish to bet on and then place a number representing what you think the team or players chances of success are. With this predicted percentage in mind, there are a number of factors you will want to think about to determine if there is value in your future bets wager.
For many basketball fans, a future bet is all about backing their team
First of all, and importantly for many sports fans, is that a Futures bet is just about supporting their team or showing off their knowledge of the sport. Given that the outcome of the bet is usually a long way in the distance, many people are happy to place a small to medium size wager on a future bet without worrying too much about expected value. Most gamblers will look at the expected final return and value of a bet but with a future bet, you can get enjoyment and excitement over the season, which also adds value. This type of value is intangible and hard to calculate so you shouldn't get too hung up on the expected return of a future bet, sometimes it is good to just place a bet that gives you interest over the basketball season.
However if financial return and value is crucial, there are factors to consider. The fact that future bets are a long-term bet means that many people will want to make allowances in this. If your money, which is part of your bankroll, is tied up in the bet, you may require a larger return to make the bet of value to you.
Are you looking for value from a futures bet?
An easy way to think about this is would it be worth placing a future beat on Miami Heat to win the NBA Championship before the season begins. Placing a $10 bet to be able to pick up $20 may not seem like the most sensible bet, especially when the bet will not be returned until the end of the season. There is a great deal of kudos in selecting the Championship winner before the first tip off of the season but if your focus is solely on the financial element, it may be better to take a punt on an outside bet, which can bring about a greater return for your wager.
Most professional sports bettors are not going to pay much interest or attention to future bets, purely because they don't want to tie their bankroll up for such a long time. This means that these bets are mainly for the fans and with that in mind, most bookmakers will offer slightly more attractive odds than they would do otherwise. Different bookmakers have different odds but if you are a fan looking to put your money where your mouth is, a future bet before the season begins is likely to be the best way to do it.
While the NBA has runs where one team dominates but it has to be remembered that the playoff system can assist an underdog. However, the best of 7 system tips the odds back in favour of the favourites. This means that there is an opportunity for long-shots to romp home and take the title but over the lengthy campaign and then the nature of the playoffs, it is likely that the stronger teams will usually come through in basketball.
A future bet on basketball is not a great way to boost your bankroll but it is definitely a great way to have some fun. For a minor investment, you can have teams to root for throughout the campaign and you can have a vested interest in the performance of certain players. Any basketball fan that wants to increase the interest levels in a long and hard season should find that future bets are the perfect way to have more fun and enjoyment with basketball.