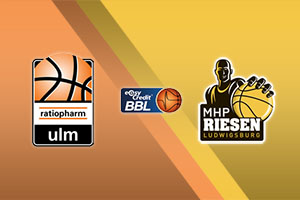 An exciting game will take place this Saturday night for the BBL. Ulm, (14-9, 6th place currently), is now free from any European obligations after being kicked out of the TOP-16 of Eurocup). They will subsequently focus on the German competitions and the battle for Bundesliga basketball. Jaka Lakovic, the 42-year-old Slovenian, proves almost as successful a coach as he was when he was playing. One of the best European playmakers who starred in both Panathinaikos and Barcelona has already been named as one of the German league's best coaches.
Ludwigsburg is the pleasant surprise of the year so far. They lead the race with a record of 20-2 (!), and they seem determined to breakthrough into the league's star teams. American John Patrick has been the coach for the last ten years, and he is vastly responsible for the progress and success of the Ludwigsburg basketball project. He is doing an excellent job, he sets the bar consistently very high, and we are yet to see if this year can be the year of ultimate glory for him.
The two teams will play without any reported absences. Everyone is looking forward to it!
Our free Ulm vs. Ludwigsburg tip: Spread +5.5, Ulm (home) Win Bet Now!
Ulm vs. Ludwigsburg Odds
Tip-off
Home Team
Away Team
Book
Home Odds
Away Odds
Home Win
Away Win
Under
Over
This basketball odds comparison table refreshes every two minutes.
20/03 18:00
Ratiopharm UlmULM
vs
MHP Riesen LudwigsburgMHP
2.3
1.67
+2.5 1.91
+2.5 1.91
O 160.5 1.91
U 160.5 1.91
2.1
1.7
+2.5 1.88
+2.5 1.88
O 162 1.93
U 162 1.84
2.3
2.10▲
1.6
1.70▼
+2.5 1.9
+2.5 1.87▲
+2.5 1.85
+2.5 1.87▼
O 160.5 1.83
U 160.5 1.91
U 160.5 1.90▲
Please toggle your mobile phone into landscape mode to see additional content.
Basketball Betting Odds, Tips and Predictions