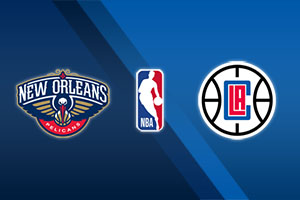 Pelicans needed a win desperately to get back in shape. Thank god (for them) they found it against the Cavaliers (116-82). Not a surprise this year, right?  They have halted the continuous negative results, and there seems to be light at the end of the tunnel. Eventually, we hope. An excellent performance by Ingram (28 points), Williamson (23 points), Adams (10 points, 17 rebounds) marked the beginning of a winning period for the Pelicans. No rainchecks for tonight's game against the Clippers, a team that will never let you win without a fight.
The Clips had to defeat the Warriors mid-week (130-104) to end the series of three consecutive losses. 28 points and nine rebounds from Leonard, 16 points and 14 rebounds from Ibaka and some other observing players made the difference for coach Lue against Curry's gang. Of course, coach Lou is always shy of good words and only said he expects the team to get better over time. No probs for him either tonight. We are defo going for an exciting clash.
Our free New Orleans Pelicans vs. Los Angeles Clippers tip: Spread -5.5, Los Angeles Clippers (away) Win Bet Now!
New Orleans Pelicans vs. Los Angeles Clippers Odds
Tip-off
Home Team
Away Team
Book
Home Odds
Away Odds
Home Win
Away Win
Under
Over
This basketball odds comparison table refreshes every two minutes.
15/03 02:00
New Orleans Pelicans
New Orleans PelicansNOP
vs
Los Angeles Clippers
Los Angeles ClippersLAC
2.9
2.95▼
1.43
1.42▲
+6 1.9
+6 1.9
O 233 1.9
U 233 1.9
2.95
1.42
+6 1.91
+6 1.91
O 233.5 1.93
U 233.5 1.88
2.95
1.42
+6 1.91
+6 1.91
O 233.5 1.91
U 233.5 1.91
Please toggle your mobile phone into landscape mode to see additional content.
Basketball Betting Odds, Tips and Predictions