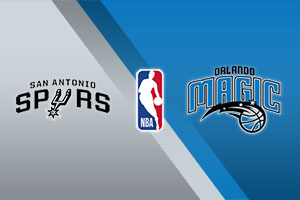 San Antonio (18-15) continues its battle eying the post-season in the Western Conference. Coach Popovic seems to be performing its usual "magician" skills. He has managed to transform its pretty average roster into a decent team. A group of people that know precisely what they want to achieve on the court. It seems we are closing the end of an era for LaMarcus Aldridge, who will be a thing of the past soon. Since the Texans plan to either release him as a free agent or trade him, today's leader / forward DeRozan will miss the game due to some personal issues without further information being disclosed.
Things appear rather tricky for the Orlando Magic in the East (13-24). It is one of those teams that have been hit hard by injuries this year, and they play consistently without at least three or four key players. While at the same time, almost half of the NBA teams keep an eye on its leading center, Vucevic!
Our free San Antonio Spurs vs. Orlando Magic tip: Spread -6.5, San Antonio Spurs (home) Win Bet Now!
San Antonio Spurs vs. Orlando Magic Odds
Tip-off
Home Team
Away Team
Book
Home Odds
Away Odds
Home Win
Away Win
Under
Over
This basketball odds comparison table refreshes every two minutes.
13/03 03:00
San Antonio Spurs
San Antonio SpursSAN
vs
Orlando Magic
Orlando MagicORL
1.33
3.4
-10.5 2.4
-10.5 1.53
O 221.5 2.65
U 221.5 1.43
1.32
3.55
-8 1.98
-8 1.84
O 214.5 1.89
U 214.5 1.92
1.33
3.4
-7 1.83
-7 2
O 214.5 1.91
U 214.5 1.91
Please toggle your mobile phone into landscape mode to see additional content.
Basketball Betting Odds, Tips and Predictions