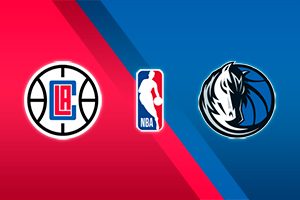 We will find out if the Clippers are ready to "fade" again in yet another season of the NBA playoffs in the early hours of Wednesday. What we saw from them during Game 1 was disappointing. They were defeated 103-113 by the Mavericks, and now they have inevitably stressed ahead of the remaining series that will be decided in 4 wins.
In terms of statistics, Tyronn Lue's team appears no better than last season. On the positive side, the experienced coach managed to build one of the best defensive lines in the league. The Clippers' two superstars, Leonard (26 points, 10 rebounds, 5 assists) and George (23 points, 6 rebounds, 5 assists), fought in Game 1, but Lue's team missed way too many shots (11/40 three-pointers, 27.5%).
Dallas' boy-wonder, Slovenian «magician» Luka Doncic, did some astonishing things on the court and finished the game with 31 points, 10 rebounds, 11 assists. He was the cornerstone for the Mavs that have broken the series from the first game. Tim Hardaway jr. (21 points), Finnley-Smith (18 points), and Porzingis (14 points) fought bravely alongside Doncic. Excellent shooter J.J. Redick is injured and will miss Game 2.
Our free Los Angeles Clippers vs. Dallas Mavericks tip: Total Points, OVER 215.5 Bet Now!
Los Angeles Clippers vs. Dallas Mavericks Odds
Tip-off
Home Team
Away Team
Book
Home Odds
Away Odds
Home Win
Away Win
Under
Over
This basketball odds comparison table refreshes every two minutes.
26/05 04:30
Los Angeles Clippers
Los Angeles ClippersLAC
vs
Dallas Mavericks
Dallas MavericksDAL
1.32
3.5
-6.5 1.8
-6.5 1.95
O 216 1.91
U 216 1.91
1.29
1.32▼
3.75
3.50▲
-7 1.95
-7 1.88▲
-7 1.87
-7 1.94▼
O 216 1.92
U 216 1.9
U 216 1.89▲
1.33
3.4
-6.5 1.83
-6.5 2
O 215.5 1.91
U 215.5 1.91
Please toggle your mobile phone into landscape mode to see additional content.
Basketball Betting Odds, Tips and Predictions