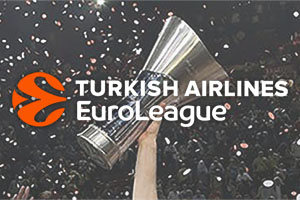 EuroLeague returns to a normal schedule this week, with games only taking place on Thursday and Friday. That means there are fewer options for basketball betting fans to look out for, but that doesn't mean there is a drop-off in quality.
With Round 29 around the corner, this is a great time to catch up on what happened last week.
The lead story was Barcelona clinching their 20th win this season, which is an outcome that places them on the brink of qualifying for the PlayOffs. The Catalan club had a big task on their hands, but they overturned an in-form Baskonia with a bit to spare. The final score of 71-57 indicates Barcelona's strength in defence, and suggests they will be a force to be reckoned with for the rest of the campaign.
Of course, Barcelona weren't the only side in the hunt for the PlayOffs that achieved a great win. Milan, Bayern, Efes, Real Madrid and Fenerbahce will all be very proud of their showing last week. There were some excellent results for these sides.
Milan were on the road in Kaunas, but that wasn't a deterrent, and they sealed the sweep of their opponent. Anadolu Efes defeated CSKA Moscow in a game which took the wind out of the sails of the Russian team. That result was great for the Turkish side, but it was also one cheered by Barcelona and the teams in the chasing pack near the top end of the standings.
Real Madrid grabbed an excellent win away to Zenit, albeit this was the least they owed their fans after falling to Khimki earlier in the week. That was a crushing defeat, in what was only the third win of the campaign for the Moscow side, but Madrid showed some nerve in bouncing back quickly. The win over Zenit sets us up for the always interesting clash between Barcelona and Real Madrid this week.
It was a good end to the week for the Istanbul sides with Fenerbahce also grabbing an away win over ASVEL.
At the bottom, Khimki fell to another defeat, unable to capitalise on their win over Madrid. ALBA picked up only their 10th triumph of the campaign in that game. Olympiacos and Maccabi celebrated overdue wins at home.
With six round left, there is still so much to play for in the EuroLeague, making this the exciting time of the season.