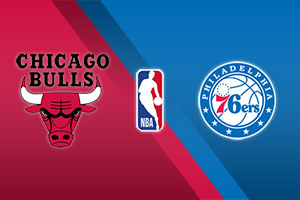 The defeat in Atlanta two nights ago (108-97) hurt the Bulls a lot (12th in the East, 26-38 record). They were asleep at the switch and scored only 12 points in the 3rd period. And that's because they have already started thinking about the next season…They now need to win three games more than the Wizards if they want to make it for the playoffs this year. Vucevic (C, 23.8 points, 11.5 rebounds, 3.7 assists) is doubtful for tonight's game, and so is LaVine (G, 27.5 points, 5.1 rebounds, 5.1 assists). God knows what the team from Illinois can achieve these two megastars.
The 76ers (1st in the East, 43-21 record) almost committed suicide yesterday. They faced the empty-roster Spurs in San Antonio and needed an OT and a buzzer-beater by Simmons to get away with the victory (113-111). Embiid's performance was really crucial, as he scored 34 points and grabbed 12 rebounds. Howard (double-double with 14 points and 11 rebounds) and Seth Curry with 22 points partied alongside Embiid. Tonight – and in the last games of the regular season – they need to do what is expected from them to secure first place in the East.
Our free Chicago Bulls vs. Philadelphia 76ers tip: Spread -4.5, Philadelphia 76ers (away) Win Bet Now!
Chicago Bulls vs. Philadelphia 76ers Odds
Tip-off
Home Team
Away Team
Book
Home Odds
Away Odds
Home Win
Away Win
Under
Over
This basketball odds comparison table refreshes every two minutes.
04/05 03:00
Chicago Bulls
Chicago BullsCHI
vs
Philadelphia 76ers
Philadelphia 76ersPHI
3.65
3.50▲
1.3
1.32▼
+7 1.8
+7 1.95▼
+7 1.95
+7 1.87▲
O 210 1.83
U 210 1.95
3.55
1.32
+7 1.98
+7 1.84
O 210.5 1.89
U 210.5 1.93
3.4
3.30▲
1.33
1.35▼
+7 1.83
+7 1.91▼
+7 2
+7 1.91▲
O 210.5 1.91
U 210.5 1.91
Please toggle your mobile phone into landscape mode to see additional content.
Basketball Betting Odds, Tips and Predictions