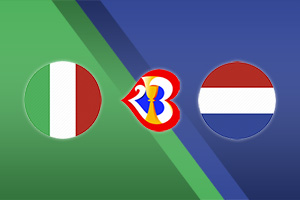 This is a group of four; Russia, Italy, Netherlands and Iceland. The first three qualify, and one will say goodbye and will have to wait for the next World Cup. The 2023 World Cup will be held in Indonesia, Japan and the Philippines, a perfect destination for fans that missed significant basketball events and would like to sunbathe in the tropical beaches of the Pacific Ocean.
Italy proved below expectation in the premiere of the qualifiers and lost 92-78 to Russia in St. Petersburg. Tonut with 20 points and Tessitori with 19 points were the only players who survived for the "Azzurri". Experienced coach Meo Sacchetti was somewhat disappointed by the performance of his players, especially in their defensive duties. He is waiting for an immediate reaction in tonight's – very crucial – game at the Mediolanum Forum.
The Netherlands lost in details by Iceland at home. The Northerners had a guard of Valencia, Hermannsson, on a great night. Franke (17 points) and Kloof (16 points) stood out for the hosts.
Italian Maurizio Buscaglia sits on the Dutch bench; he returns to his homeland as an opponent.
Qualitatively, there is a distance between the two teams. However, with the… massive energy they put on their defence, the Netherlands can fight and perhaps get something good out of tonight's game in Milan.
Our free Italy vs. Netherlands tip: Spread +13.5, Netherlands (away) Win Bet Now!
Italy vs. Netherlands Odds
Tip-off
Home Team
Away Team
Book
Home Odds
Away Odds
Home Win
Away Win
Under
Over
This basketball odds comparison table refreshes every two minutes.
29/11 20:30
Italy
vs
Netherlands
1.14
1.18▼
5
4.40▲
-10.5 1.03
-10.5 1.83▼

Historic Odds

29/11 20:13 1.83
29/11 18:05 1.86

-10.5 9.5
-10.5 1.83▲

Historic Odds

29/11 20:13 1.83
29/11 18:05 1.80

O 149 1.8
U 149 1.86
Please toggle your mobile phone into landscape mode to see additional content.
Basketball Betting Odds, Tips and Predictions