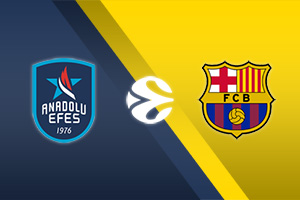 Great game this afternoon in Turkey, with Efes (6-6) hosting Barcelona (10-2) in the "remake" of last year's Final-4 final that took place in Cologne; Where Ergin Ataman's team won the trophy of the Euroleague after an exciting event.
Five wins in the last six games for Efes, that are trying to make up the lost ground in the standings.  Valuable guard Shane Larkin woke up from the dead and reminds finally who is the player, the scorer and the captain that an entire team was based upon. Out of action is important power forward Chris Singleton but also a substitute guard, Balbay. Shooting guard Anderson is also doubtful for tonight's super derby.
Sarunas Jasikevicius's Barcelona has been at the top of the standings since the beginning of the season, with the sole aim of winning the trophy. Today, the Blaugrana will seek revenge for the lost final a few months ago in Germany. Unfortunately for them, they will have to try this without some very important players: Higgins and Calathes, who are both injured. Shooting guard Alex Abrines has been absent for a long time and his return to the court has been postponed.
Our free Anadolu Efes vs. Barcelona tip: Total Points, UNDER 160.5 Bet Now!
Anadolu Efes vs. Barcelona Odds
Tip-off
Home Team
Away Team
Book
Home Odds
Away Odds
Home Win
Away Win
Under
Over
This basketball odds comparison table refreshes every two minutes.
03/12 18:30
Anadolu Efes
Anadolu EfesEFS
vs
FC Barcelona
FC BarcelonaFCB
1.52
1.54▼

Historic Odds

03/12 16:15 1.54
02/12 22:44 1.58

2.67
2.65▲

Historic Odds

03/12 16:15 2.65
02/12 22:44 2.50

-3.5 1.9
-3.5 1.86▲

Historic Odds

03/12 16:15 1.86
02/12 22:44 1.95

-3.5 1.9
-3.5 1.95▼

Historic Odds

03/12 16:15 1.95
02/12 22:44 1.86

O 156.5 1.83
O 156.5 1.90▼
U 156.5 2
U 156.5 1.90▲
Please toggle your mobile phone into landscape mode to see additional content.
Basketball Betting Odds, Tips and Predictions