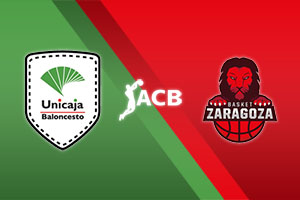 Malaga (record 14-15) belongs to the group of teams fighting for the 8th place of the ACB Liga, which is the last one that leads to the tournament's playoffs. Last week, the Andalusians lost very quickly to Tenerife on the road (79-61). Coach Fotis Katsikaris mentioned right after the game that his team needs to transform immediately if they want to catch the 8th place and the playoffs train. The leading scorer for Malaga was – who else –  quality French guard/forward Axel Bouteille (22 points). Jaime Fernandez added 13, but these two weren't enough, apparently. Carlos Suarez (G) is still out of action, while Yannick Nzosa (C) and Gal Mekel (PG) remain a question mark since they also missed the game against Tenerife.
Zaragoza (record 12-19) is perhaps the most indifferent team in the Spanish league. They have secured a place in next year's ACB, but making this season's playoffs belongs to the realm of fantasy. All they have in mind is the Final-8 of the Basketball Champions League, held in Russia next month. Last week Argentine coach Sergio Hernandez resigned (for personal reasons); hence there have been changes on Zaragoza's bench. The team owners immediately and hired experienced Luis Casimiro, who will play tonight only his second game with the squad. Testing himself at the headquarters of the team he worked for in the three previous years before getting himself fired by it (at the end of January 2021)!
Coach Casimiro had not hidden his bitterness against Malaga's decision-makers. At the same time, many (among them several Malaga players) were surprised by the decision of the organization's management to show the exit door to the 61-year-old coach. Last week Zaragoza achieved a superb away victory over San Pablo Burgos with 95-98, with Elias Harris scoring 22 points, Jonathan Barreiro 17 and Nicolas Brussino adding 16. No absences report ahead of tonight's event.
Our free Unicaja vs. Basket Zaragoza tip: Spread +7.5, Basket Zaragoza (away) Win Bet Now!
Unicaja vs. Basket Zaragoza Odds
Tip-off
Home Team
Away Team
Book
Home Odds
Away Odds
Home Win
Away Win
Under
Over
This basketball odds comparison table refreshes every two minutes.
24/04 20:45
Unicaja MálagaUNI
vs
Basket Zaragoza-
1.38
3.15
-6.5 1.95
-6.5 1.8
O 172.5 1.91
U 172.5 1.91
1.42
1.38▲
2.85
3.00▼
-6 1.98
-6 1.90▲
-6 1.83
-6 1.90▼
O 173.5 1.94
U 173.5 1.86
1.35
3.2
-6.5 2.4
-6.5 1.95▲
-6.5 1.55
-6.5 1.83▼
O 172.5 1.87
U 172.5 1.9
Please toggle your mobile phone into landscape mode to see additional content.
Basketball Betting Odds, Tips and Predictions