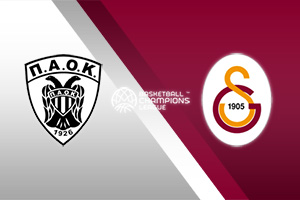 In Thessaloniki tonight, there is a game for the 5th group of the BCL; PAOK will be host to Galatasaray. Igokea (1-1) and Nymburk (1-1) are the other two teams in this same group. Only the first team will qualify directly for the TOP – 16, while the 2nd and 3rd will claim a second ticket in the play-in process.
PAOK had a quiet week, having no obligations for the Greek Basket League. This was an opportunity for coach Lykogiannis to work with his team while welcoming two injured players to the squad; his captain, guard Jermaine Love and forward Josh Carter. Both returned to training and are at the team's disposal for tonight's match. PAOK prevailed over Iraklis in the last game they played (72-69).
That was an essential win for PAOK that also inspired some confidence in the Thessalonians, who have started the season poorly.  Forward DiLeo with 12 points and 14 rebounds and center Marvin Jones with 15 points and 8 rebounds led the way. In the BCL, however, they remain at 0-2 in the group. So if they lose again tonight, they can wave goodbye to the Top-16 stage.
Massive victory for Galatasaray that prevailed over the champions Efes (85-92) and are currently at 3-2 in the TBL. Ekrem Memnun's team had 15 more rebounds and shared 26 assists in total. Parcel (SF) was the top scorer with 26 points; however, guard Dee Bost stole the show with an impressive triple-double (the only Galatasary player who managed this in the last 25 years!). He finished the game with 15 points, 14 rebounds and 12 assists. Guard, Melo Trimble added 22 points. With 2/2 in the BCL, Galata will be the favourite to get the top position in the group. The Turkish team has no problems or absences.
Our free PAOK vs. Galatasaray tip: Money Line, Galatasaray (away) Win Bet Now!
PAOK vs. Galatasaray Odds
Tip-off
Home Team
Away Team
Book
Home Odds
Away Odds
Home Win
Away Win
Under
Over
This basketball odds comparison table refreshes every two minutes.
25/10 18:30
PAOKPAOK
vs
Galatasaray IstanbulGSO
2.7
2.60▲

Historic Odds

25/10 13:28 2.60
24/10 23:44 2.40

1.41
1.45▼

Historic Odds

25/10 13:28 1.45
24/10 23:44 1.52

+3.5 1.9
+3.5 1.83▲
+3.5 1.76
+3.5 1.83▼
O 165.5 1.83
O 165.5 1.86▼
U 165.5 1.83
U 165.5 1.80▲
2.6
2.35▲

Historic Odds

25/10 00:07 2.35
24/10 20:43 2.60

1.5
1.58▼

Historic Odds

25/10 00:07 1.58
24/10 20:43 1.50

+5 1.83
+5 1.84▼

Historic Odds

25/10 00:07 1.84
24/10 20:43 1.83

+5 1.97
O 167 1.94
U 167 1.86
Please toggle your mobile phone into landscape mode to see additional content.
Basketball Betting Odds, Tips and Predictions