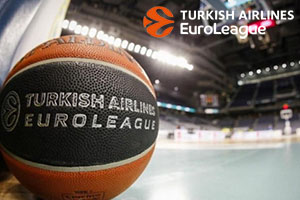 By the end of this week, one team might have qualified for the EuroLeague Playoffs. With so many teams still in contention for next stage of the tournament, we have a great selection of matches to look forward to this midweek.
CSKA Moscow vs. AX Armani Exchange Milan
Second playing third is always a big game, but in the context of the race for the Playoffs, this game in Moscow is monumental. The hosts have a slight advantage, an 18-9 record over Milan's 18-10 standing, and the Russians won in Milan earlier this season. However, Milan know it wouldn't take a massive win to turn the head-to-head in their favour.
Kyle Hines is likely to be welcomed warmly on his return to CSKA but as you would expect, there will be no love lost during the match.
Panathinaikos OPAP Athens vs. Maccabi Playtika Tel Aviv
With 16th playing 14th, this isn't a game that matters at the top end of the EuroLeague, but for both teams, this will be a big game. It is a match up that evokes many happy memories for the Greek side.
10 years ago, this was the line-up when Panathinaikos won the 2011 EuroLeague Championship, triumphing by a score of 70-78. This match couldn't be further from the glory of a Championship match-up, but even at this stage, a win is welcome.
LDLC ASVEL Villeurbanne vs. ALBA Berlin
The 12th team play 15th, and again, the casual onlooker will have more exciting clashes with respect to Playoff games to look out for.
However, both these sides will be keen to push up the table as best they can. ASVEL go into this game knowing next week's match in Tel Aviv has been postponed to a later date, so they'll be keen to win before that enforced EuroLeague lay-off.
Crvena Zvezda mts Belgrade vs. Khimki Moscow Region
The bottom two clash here, and both sides will see this as a chance to get a much-needed win on board. Belgrade holds a 7-21 record and the guests travel with a 3-23 record. While there might not be a lot at stake, it has the potential for an exciting match-up, with both teams eager to improve their current standings.
Real Madrid vs. FC Barcelona
If results go their way, Barcelona could book their Playoffs spot before the end of the week. However, they will need to win in Madrid, and then hope a Friday night result goes in their favour.
Matches between these two sides are always hotly anticipated, but this could be the biggest for some time. Real had struggled against domestic opponents in Europe this season, but this match is vital for their Playoff hopes.