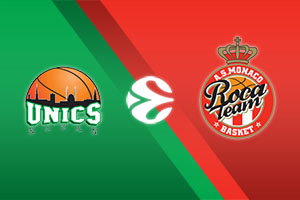 This could be the night. An away victory for Monaco in Kazan will see the first French winners of the EuroCup. However, a home win sees the Finals move to a third match on Sunday. The stakes are high for this clash in Kazan.
The game taking place on Friday 30th April is:
UNICS Kazan vs. AS Monaco
The score line in the opening game of the EuroCup Finals was:
AS Monaco 89 – 87 UNICS Kazan
While there is nothing to suggest the second game of the final will mimic the first, we can only look backwards when trying to look forward. This is why we will highlight that game's key players in the hope of determining where Friday's game will be won or lost.
Who led the way with the Index Rating?
If you take the Index Rating as the barometer of which players had the most impact, Mathias Lessort was the leading player in the first game. Lessort grabbed a score of 28, pushing him three points clear of Artem Klimenko, who finished second with a score of 25.
It is easy to see why Lessort has been praised for his performance in the first game of the final. 17 points and two blocks is a great starting point, but his defensive showing near the end of the game made all the difference.
Two players outscored Lessort on the night, but it is fair to say that he was the player who impacted the game most.
Which players scored strongly in game one?
Okay, we know that two players outscored Lessort, so who were they? Rob Gray was the top scorer, his 23 points fuelling the French side, and playing a key role in the final outcome of the game. For Kazan, Klimenko was the top scorer, and his 22 points was a career best.
It is a fantastic achievement to deliver a career best in a final, but you can bet that Artem would have preferred to score fewer points but be on the winning side.
There will be a lot of focus on these two players to deliver once again on Friday night. If they do, we could be in line for another excellent match-up.
Who was on the rebound?
Marcos Knight was the leading player with respect to rebounds, picking up six in the victory. With Lessort delivering five, Monaco had a couple of key players in this regard. However, there were three UNICS Kazan players serving five rebounds each, so both sides have strong skills in this aspect of the game.
If you're a European basketball betting fan, bear in mind this match could be the final EuroCup game of the season. If you want to get involved with the action, this could be your last chance. If Monaco win, they take the crown but if UNICS Kazan triumph, we have a third and final game to decide who wins the 2021 EuroCup final.