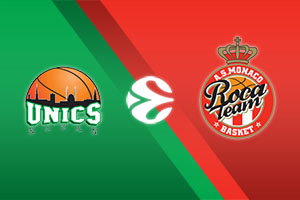 There is no time for rest in the EuroCup, with a massive game looming before the weekend gets started. The tournament could be decided on Friday night, but the hosts will be determined to avoid that happening.
There are few things more painful in sporting than watching your opponent celebrate at your home court, but this might pan out on Friday evening.
On Friday 30th April, the second game in the EuroCup Finals is as follows:
UNICS Kazan vs. AS Monaco
The French side have the 1-0 advantage in the tie, thanks to the first game finishing:
AS Monaco 89 – UNICS Kazan 87
The close margin of victory indicates this was a close game, and at times, Kazan were well in front.
The UNICS Kazan coach pinpoints the moment his side lost their way
Coach Dimitris Priftis of UNICS Kazan spoke about where he thought his side lost the game. He said; "At the moment we took a lead of 10 points in the third quarter, we lost our minds, we played some stupid offenses and we received consecutive transition points without even being back. That was the moment that changed the momentum of the game."
There was an 11-0 scoring run for Monaco, and this will be a sore point for UNICS if they don't turn this tie around. Having a ten-point lead is no guarantee of anything in basketball, but most championship winning teams will use that gap as a platform for success.
The Monaco boss is giving nothing away
Monaco's Coach Zvezdan Mitrovic spoke about the first game of the Finals, saying; "I think both teams played with great energy. Maybe a couple offensive rebounds at the end of the game was the key factor in the end."
With more games to go, no coach is going to dismiss the opponent or say that this was an easy match for their side. However, there is no denying that this was a close-run thing, and you will think Monaco will take nothing for granted in the next match.
At the very least, the French side has two games where they just need to win one. For a side that has been so strong this season, that doesn't sound like a massive task. However, they are playing away from home, and UNICS Kazan will think they can win two home games in a manner of days to clinch the trophy.
It might be all done and dusted by Friday night, or this series could stretch out to Sunday. At this point, it is fair to say AS Monaco have an advantage, but it is still very much up for grabs.
If you are a European basketball betting fan, make sure you are considering this Friday night game as part of your weekend's activities. There might be a third and final clash on Sunday, but there might not, so don't assume anything!