Daily Fantasy Basketball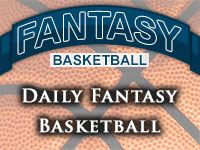 For sports fans, there have never been more opportunities to connect with the game they love than there is today. The emergence of the internet has made it easier to connect with other fans and when it comes to statistics, games and finding out more information, we are living through an era that is unrivalled. One area where this is apparent is fantasy sports and fantasy basketball is a hugely popular game. Basketball is a game with a lot of statistics and key elements, which underpins the point scoring nature of the fantasy basketball games and leagues on offer.
No matter if you are solely focused on the final outcome at the end of the season or you are looking out for scores on a daily or weekly basis, basketball is a sport that provides an exciting and thrilling platform.
There are different leagues in fantasy basketball
It is important to be aware of the fact that there are different types of leagues when it comes to fantasy basketball. We'll be on hand to talk you through the different types of fantasy basketball leagues. Some players will enter in all of the different types but if you want to be focused on one team and putting all of your energy into a big win, we will help you find the league that is right for you.
There are plenty of options for people when it comes to fantasy basketball. Whether you want to play with friends in an attempt to grab some glory against the people you know well or you are playing in a professionally organised league because cash is up for grabs, there are plenty of fantasy basketball options available to choose from.
Roster composition and understanding trades and waivers is vital
Fantasy basketball is simple to get into but it can be challenging. If you are looking for good advice when it comes to getting through the Draft, composing your roster and understanding how to make the most of trades and waivers, we are here to help. These are the steps that can make the difference between winning and losing, so if you need a helping hand in getting one over your rivals, we'll take you through the various steps.
Knowing what statistics are important when it comes to grabbing points or winning match-ups will really boost your chances of winning and we're here to help you get a grip on fantasy basketball statistics. We'll even provide you with some tips to make sure you make the right choices when it comes to drafting your basketball squad.
With there being a number of options for you to choose from when it comes to fantasy basketball tournaments or leagues, knowing what they offer and provide can help you to find the best league for your needs. We will take a look at some of the biggest and best basketball fantasy leagues, including Draft Kings and FanDuel.
It doesn't matter if you are playing fantasy basketball for fun, for glory or for potential cash prizes; you want to play to win. At Basketball Betting, we have everything you could want or need to make the most of your fantasy basketball time.