Fantasy Basketball Tips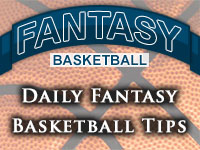 When it comes to daily fantasy basketball, everyone wants tips and guidance that will help them win. There is no magic trick or move you can pull to guarantee success with fantasy basketball but if you follow these tips, you will improve your chances of being a winner.
Be aware of who is injured
With so many basketball games taking place over the course of an NBA season, and so many teams and players involved, it is understandable that you can miss out on news of any knock or injury that a player has. Whether the injury is serious enough to rule them out of the game completely, limit the amount of court time they experience or just impact on their ability to be at their best, injuries can seriously hamper your chances of winning when it comes to winning at fantasy basketball.
You need to find yourself a reliable source for injuries suffered by basketball players. Over the course of the season, we will aim to provide you with daily tips on what big injuries may impact on your ability. It is important not to think about the negative impact of an injured player remaining in your team can have, you should think about who will come in to replace the injured player for his team. This could be an unfancied player who has a chance to hoover up a lot of points for your team. If you know what key players are injured, and what reserves are likely to be called up to replace them, you could pick up a lot of points while other team owners miss out.
Know the scoring system of your league
This seems like a simple tip but you need to make sure that you know the point scoring system used by your league. Not all leagues are the same. As an example, an assist in FanDuel is worth one point but if you are playing on DraftStreet, you will find that an assist is worth 1.5 points. If a player misses a shot on FanDuel, there is no point for missing but on DraftDay, your player will lose 0.5 points for a missed free throw or 0.25 points for a missed field goal.
Know the matchups
It isn't enough to know who your players play for; you need to think about who their team is playing, how they are likely to perform and who they are up against on court. If you have a player that normally performs well but is up against a very strong team in the NBA, it may be better to bench them and utilise someone else. Of course, if you have a key player in your team and they are playing weaker opposition in the middle of a busy schedule, you may find that your star player is rested or given little court time. These are big elements which impact the total points a player grabs in a week or over the course of the season. This is why being involved and engaged with the actual league season will help you to make the most of your league or tournament.
Know the schedule
Basketball is a game that can be greatly affected by team schedules. There are so many fixtures in the regular season and recovery time and travel times will often impact on how a player performs. There are two key factors to look out for in this area:
Lengthy flights
How many on-court minutes the player has just endured
If a team is travelling from one coast to another, it is understandable that they may not be at their best in the next game. This means it may be best to avoid these players or to opt for the players that are facing teams who have travelled.
There is also a lot to be said for the debilitating impact that playing 40 minutes (or more) one day can have on a player the next day or day after. Knowing which players have been used for a full game is of benefit in confirming your line-up over the next couple of days.
You need a few sleepers or bargains
If you are playing in an auction league or a salary cap league, you need to find players that aren't at the top of the list for draft picks but who can do a job throughout the season. On many occasions, it is the role of the sleepers that pick up the points that are the difference between winning and losing. It may be that your player is involved with a squad where rotation is used or they are in a position where the star player is injury prone. In these cases, it may be that the player involved is undervalued, allowing you to get them for a low cost or without other people battling you for them.
Look to the bookmakers
At Basketball Betting, we've always got one eye on betting lines and what bookmakers are saying about forthcoming games. When it comes to fantasy basketball, it may be that looking at the Over/Under market will give you a good feeling about how a match will pan out. If the bookmakers think that there will be a lot of points in a game, you should find that adding players from these teams will be of benefit to your team.
Look for streaks
Sometimes teams or players get on a roll, and when they do, there is a lot to be said for looking at players who are showing great consistency or who are struggling. Confidence plays a big part in basketball and when a player is playing well, they will be more aggressive, try more shots and generally feel better about themselves. Streaks will never last forever and you shouldn't use streaks rather than a strategy but there will be times when it is best to opt for a lucky player in your team as opposed to a good player.
Conversely, if a player is on a bad run and there is little interest in them or not much cost, you may find value in snapping him up. A good player may lose form but this will likely return at some point, so grabbing them when there is little interest and then unleashing him when he returns to form may be exactly what you are looking for.
There are plenty of experts to listen to when it comes to basketball, and fantasy basketball, and at times it can seem overwhelming. You can't take advice from everyone, so look for people whose opinion you trust or whose opinion is similar to your own ideas about basketball. Getting some help and advice is good, but remember that fantasy basketball should be fun and if the idea of playing is to beat your friends, you want to beat them on your own terms!
Also, with the games coming thick and fast, injuries occurring and players going on streaks of good and bad form, you will find it is impossible to stay on top of everything. If some things pass you by, don't panic or get stressed. There is a lot of madness involved with fantasy basketball, so just make sure that you can stay on top of most things and then enjoy the fun that comes with the fast pace and changing nature of the sport.