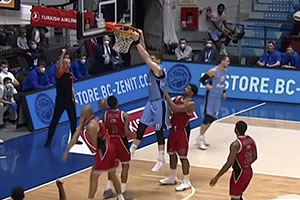 While we were talking about how well Kevin Pangos played last week in helping Zenit squeeze past Belgrade, the player wasn't letting it go to his head. On Monday night, while many of us were relaxing after the first day back at work after the weekend, Pangos was again a key factor in another victory for the St Petersburg side.
Zenit St Petersburg 79 – AX Armani Exchange Milan 70
This game was scheduled for Round 5, but was finally squeezed in between Rounds 25 and 25.
It was a crucial game, and it could have ramifications for both teams as we make our way into the business end of the season. Zenit jumped from seventh spot in the table up to fourth in the table, and crucially, they still have a game in hand.
If the side from St Petersburg wins that game in hand, they will move beyond Milan into third place. There was a lot on the line on Monday night, and the news that fans were allowed in was a welcome boost to the hosts.
However, it was Pangos delivering a season-high equalling performance index rating of 25 who stood out. The point guard is in tremendous form, and he offered 16 points, 10 assists and 3 steals. This was Pangos' third double-double of the campaign.
We all know big players step up when their team needs it most, and the fourth quarter showing indicates Pangos can deliver when it matters. He grabbed 10 points, 3 assists and 1 steal in the final section of the game.
There was also a tremendous run of points when the game was tied at 60-60 early in the final quarter. At this point, the match was on a knife-edge but 7 points and an assist from Pangos pushed Zenit to an 11-2 run that they never looked back from.
Zenit have three more home games in a row, and they will fancy their chances to continue this winning run. They have already won five consecutive home games, and the Sibur Arena isn't a welcoming destination for guests.
For Milan, it was a poor showing, and Malcolm Delaney had an evening to forget. He provided an index rating of negative 8. Needless to say, this was a career low for the player. Sergio Rodriguez did his best to push the Italians on, and he provided 10 points and 5 assists. However, as good as Rodriguez was, Pangos was better in every department.