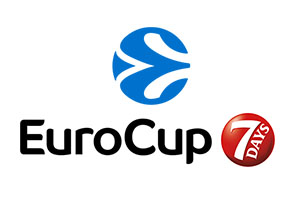 The second last round of the Top 16 takes place this week, and 12 teams are still in contention for the six-remaining quarter-final slots. Some of the decisions will go to the last round, but Tuesday and Wednesday night will be decisive for some sides.
Group E
AS Monaco v Nanterre 92
Joventut Badalona v Unicaja Malaga
If AS Monaco win, they make it through to the quarter final. There is even a chance that Monaco fans will be smiling if they lose, but only if its less than 28 points and Unicaja Malaga overcome Joventut Badalona.
Nanterre come into the game knowing if they lose and Joventut win, they are eliminated from the tournament, Unicaja are only playing for pride at this stage, but the other three sides have everything to play for.
Group F
Boulogne Metropolitans v Lokomotiv Krasnodar
Dolomiti Energia Trento v Partizan Belgrade
A win for the Metropolitans will see them safely into the quarter finals, and this would eliminate Lokomotiv from the tournament. However, it is the other game that is more interesting, with both sides sat on 2-2 record, and looking to qualify for the next round if everything goes their way this midweek.
Then again, Trento and Partizan know that there are outcomes which see them eliminated, as well as progress, so Wednesday night will be a tense evening.
Group G
Cedevita Olimpija Ljubljana v Virtus Segafredo
Buducnost VOLI Podgorica v JL Bourg en Bresse
Virtus are already in the quarters thanks to their 4-0 record, but know that a win here would set them up nicely for the 2quarters and beyond. The hosts are looking to book their progress, which they can do with a win.
Even if Cedevita lose, they could progress the following even if Bourg overcomes Budocnost.
Bourg have already been eliminated, and depending on ethe result on Tuesday, Budocnost will enter this match having been eliminated or having received a significant helping hand.
Group H
Mornar Bar v Herbalife Gran Canaria
MoraBanc Andorra v UNICS Kazan
Both Morna and Gran Canaria hold a 1-3 record, and the losing side is likely to be eliminated from the tournament. UNICS have already qualified for the next round, but will see this as a chance to book home-court advantage in the quarter finals. The side from Andorra cannot qualify this week, but a win will keep them fighting into the last round of the Top 16.