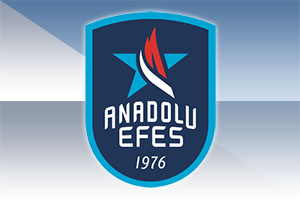 Right now, all four teams in the Final Four will feel in good shape. There is a lot of time before the finale to the season, and a lot of opportunity to work on plans and plays that will hopefully bear fruit in Cologne at the end of the month.
This is only the fourth Final Four appearance for Anadolu Efes Istanbul, but it is their second in a row. Yes, the 2019/20 season was halted before it concluded, but they reached the Championship game in 2018/19. The halted season also saw Anadolu in good form, and they were leading the regular season table when things were brought to a close.
Anadolu get on a roll in the EuroLeague
Anadolu have a habit of doing things in spurts. They reached their first Final Four in 2000, and they repeated this achievement the following season. However, it then took 18 years for them to get back to that stage, but they have achieved the two-years in a row run again.
Anadolu don't have much of a history in Cologne, they have only played there once. However, they did win by a score of 68-82 over RheinEnergie Cologne in the second round of the 2006/07 EuroLeague season.
That won't count for anything this summer, but for the historians who like to look back and see a team's path to glory, it is always worth considering. Also, European basketball betting fans love a wager that has some precedence in the past!
Further boost for Anadolu
In what will be good news in the build-up to the Final Four, it has been announced that head coach Ergin Ataman has extended his contract with Anadolu Efes Istanbul. The 55-year-old will extend his time with the club until the conclusion of the 2022/23 season.
This is his third stint on the bench with Anadolu, but the current run has been a successful one so far, and there might be greater glory ahead for the Turkish side. Ataman has already seen Efes reach their first Championship game in the EuroLeague, a feat which came one season after the club finished last in the tournament.
Also, he led them to their first domestic league title in 10 years, so there have been many happy memories created under Ataman. The Anadolu fans will hope some more are not too far away.
The side from Istanbul have been one of the strongest teams of the season, and of the last few years. No one will begrudge them their place in the Final Four, but equally, they have a lot of work to do if they want to come out on top.
Will Anadolu Efes Istanbul crown a tremendous time for the club with glory in the Final Four in Cologne at the end of May?