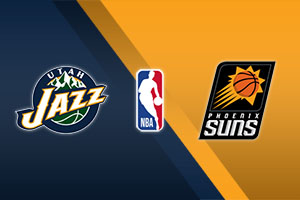 Great derby for the Western Conference tonight! The leaders in the conference, Utah Jazz  (record 38-12/16-12 on the road/9-1 last 10), are… tested in Phoenix against the rejuvenated (this year) Suns (35-14/2nd in the West, 9-1 last 10). With the latter coming from six consecutive victories in the league.
In our opinion, two of the best coaches in the league are coached: Quin Snyder on the one hand and the Suns reformer Monty Williams on the other.
Phoenix has one of the best defences in the league (5th),  while the Jazz can scare any opponent (3rd best offence and 3rd defence in the league), as they have way too many offensive solutions (Mitchell, Bogdanovic, Gobert, Conley, Clarkson) and… a thousand ways to score.
It is worth noting that, at least for the time being, no absences are reported for both teams. The way it looks now, both teams will play tonight's game with a fully loaded arsenal.
Our free Utah Jazz vs. Phoenix Suns prediction: UNDER 228.5 points
Our free Phoenix Suns vs. Utah Jazz tip: Total Points, UNDER 228.5 Bet Now!
Phoenix Suns vs. Utah Jazz Odds
Tip-off
Home Team
Away Team
Book
Home Odds
Away Odds
Home Win
Away Win
Under
Over
This basketball odds comparison table refreshes every two minutes.
08/04 04:00
Phoenix Suns
Phoenix SunsPHO
vs
Utah Jazz
Utah JazzUTA
2.2
2.15▲
1.71
1.74▼
+2.5 1.91
+2.5 1.83▲
+2.5 1.91
+2.5 1.87▲
O 227 1.91
U 227 1.91
2.07
1.78
-6 1.86
-6 3.10▼
-6 1.96
-6 1.38▲
O 228 1.98
U 228 1.84
2.1
1.75
+2.5 3
+2.5 1.87▲
+2.5 1.4
+2.5 1.95▼
O 226.5 1.87
U 226.5 1.95
Please toggle your mobile phone into landscape mode to see additional content.
Basketball Betting Odds, Tips and Predictions