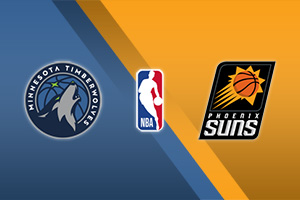 The Timberwolves have b2b games in Los Angeles. The more easily they beat the Lakers (83-107), the easier they were dragged by the Clippers (129-102). The match was judged in the 2nd period (38-17 the individual score) in favor of the hosts. Edwards had 21 points and was Minnesota's top scorer. At 15 points Russell, with 8 assists, Towns stayed low, counted only 8 points (3/11 shots). The third double digit player was McDaniels with 15 points. No absences are reported for the Timberwolves.
The Suns faced the Rockets last night in Houston with a show of strength (115-89). No one played more than Booker's 32 minutes, with the Suns guard scoring 26 points, 5 rebounds and 6 assists. Very good match the tall McGee, which proves to be an excellent addition, especially with center Ayton out; he counted 19 points and 14 minutes. In 15 points Paul, while he also had 7 steals!
Ayton remains out (C, 14.2 points, 11.3 rebounds).
4-8 Timberwolves (record)
9-3 Suns
Our free Minnesota Timberwolves vs. Phoenix Suns tip: Karl - Anthony Towns Over 22.5 Points Bet Now!
Minnesota Timberwolves vs. Phoenix Suns Odds
Tip-off
Home Team
Away Team
Book
Home Odds
Away Odds
Home Win
Away Win
Under
Over
This basketball odds comparison table refreshes every two minutes.
16/11 02:00
Minnesota Timberwolves
Minnesota TimberwolvesMIN
vs
Phoenix Suns
Phoenix SunsPHO
2.5
1.58
+4 1.9
+4 1.9
O 222 1.9
U 222 1.9
Please toggle your mobile phone into landscape mode to see additional content.
Basketball Betting Odds, Tips and Predictions