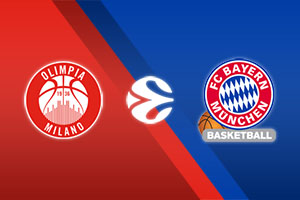 The opening games of the PlayOffs are all done and dusted in the EuroLeague, but there is no time to waste. This is because Game 2 is already upon us, and four teams are set to do battle tonight, just days after squaring off against their opponent.
On Tuesday night, there were two home wins, and the victors are at home again this evening. We've already looked at the Anadolu and Madrid clash, so we now turn our attention to the Thursday 23rd April game between:
AX Armani Exchange Milan vs. FC Bayern Munich
The Tuesday night clash between these sides turned out to be an epic encounter, and if we get anything half as good as that on Thursday night, European basketball fans are in for a treat. The game on Tuesday finished:
AX Armani Exchange Milan 79 – 78 FC Bayern Munich
The score line suggests it was a close game, but that wasn't even half the story!
The Germans dominated in the first half. A 2-17 scoring run in the second quarter put the away side clear, and at the break, they led by 19 points. Only the most hardened of Milan fans thought they would pull this back, but they did, and in the last minute of the match, the score was tied at 74-74.
At 1.2 seconds left on the clock, James Gist put Bayern ahead, and it looked as though the away side had triumphed. However, a sensational play involving Malcolm Delaney and Zach LeDay, who unleashed a buzzer beating shot, stole the game and ensures the Italians have the advantage heading into the second match of this tie.
LeDay grabbed 17 points and 7 rebounds in the win while Sergio Rodriguez snatched 13 points. What makes the effort of Rodriguez all the more impressive is that his 13 points came in the final 11 minutes of the match.
DJ Seeley provided 23 points for the Germans, with Wade Baldwin IV and JaJuan Johnson both scoring 10 points in the loss.
Given how Tuesday night panned out, it is likely basketball fans will be eager to tune into this game. There is nothing to suggest that this will be anything other than another close game, however, you have to wonder how Bayern will feel going into this game.
It would not be unthinkable for them to crumble after such a crushing defeat, but some teams might bounce back after a strong setback. As for Milan, they know a home win moves them 2-0 ahead in the series, so there is every incentive for them to repeat their feat from this midweek.