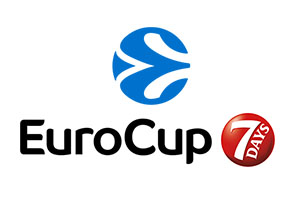 As we enter the final week of the Top 16, eleven teams are still in contention for five remaining EuroCup quarter final spots.
The teams who have already booked their place in the next round are Virtus Segafredo Bologna, UNICS Kazan and AS Monaco.
Group E
On Tuesday, Group E concludes but Unicaja Malaga are already eliminated from the tournament. They face AS Monaco, with the French side already through. Therefore, the match between Nanterre 92 and Joventut Badalona is the one to focus on.
If the hosts win by at least six points in regular time, they reach the quarter finals for the first time. Any other outcome, and it is Joventut who will progress.
Group F
On Wednesday, it is all to play for in Group F. Lokmotiv welcome Dolomiti, but it is the away side who are in control. If Trento win, they book top spot. Lokomotive need to win by 12 points to progress.
Partizan host Boulogne, and again, it is the away side who are in control. If the Metropolitans win, they are in the quarter finals. Depending on the score, the final places are very much in the mix, so basketball betting fans will find this to be the group with excitement on the line.
Group G
On Tuesday, Budocnost host Cedevita, and a win by at least three points in regulation time for the hosts sees them through to the next round. Any other outcome sees the away side progress.
In the other game, Virtus and their 5-0 record welcome Bresse with a 0-5 record in a dead rubber match.
Group H
Group H could become complicated, but only if results pan out in one way. UNICS have already grabbed top spot, and if Gran Canaria wins, the qualifiers are simple. However, if Gran Canaria loses, the other two sides know they have a chance.
Andorra host Mornar Bar. If Andorra wins with Gran Canaria losing, they make their way to the quarter final. However, if Mornar win by at least 10 points in regulation time, and Gran Canaria loses, it is them who will be smiling at the end of the night.