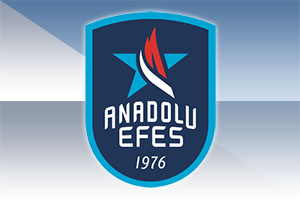 The clock is truly ticking towards the Final Four in Cologne, but teams cannot afford to dwell on their EuroLeague dreams just yet. One team from Turkey is in with a great chance, but they've still got domestic business to manage first.
Ever since knocking out Real Madrid of the EuroLeague, booking their passage to the Final Four, Anadolu Efes Istanbul have been very busy on domestic duty.
Friday 7th May – Fenerbahce 84 – 88 Anadolu Efes Istanbul
Sunday 9th May – Anadolu Efes Istanbul 84 – 74 Darüşşafaka Basketbol
This saw the side from Istanbul top the regular season, and before they had a chance to draw breath, they were involved in the quarter-finals at the climax of the Turkish season. Gaziantep were the side who stood in Anadolu's way.
Friday 14th May – Anadolu Efes Istanbul 96 – 73 Gaziantep
Sunday 16th May – Gaziantep 67 – Anadolu Efes Istanbul 83
This brought about a simple passage to the semi-final, which is already one game deep, and you will not be shocked to learn that the side from Istanbul hold an early lead.
Wednesday 19th May – Anadolu Efes Istanbul 96 – 77 Besiktas
This brings us up to date, but it isn't long before Anadolu are back in action, in fact, they will play this evening.
Friday 21st May – Besiktas v Anadolu Efes Istanbul
It is fair to say all semi-finals where you have a chance to clinch the series are big games, but there is an added incentive for Anadolu to wrap up this series before the weekend if they can.
If Besiktas win, we go to a third match on Sunday, and this will start to eat into Anadolu's preparation time for CSKA Moscow and the Final Four in Cologne. Therefore, if the Istanbul side need any further motivation to be at their best on Friday night, they have it in abundance.
Every day might be crucial in the build-up to the clash with CSKA. Over the course of the regular season, the Turkish side showed they have nothing to fear when it comes to taking on the team from Russia. There wasn't much to separate these sides, and on their day, either side can come out on top.
However, Anadolu know they face a side with a brilliant pedigree. They also know that the Russian side came out on top when these two teams in the most recent EuroLeague grand final. There is a chance that the Moscow side holds a psychological advantage over their Turkish opponents.
Therefore, the Istanbul team needs as much to go in their favour as possible, and a few extra days rest could be enough to give them an edge in Cologne.
If you are a European basketball betting fan, you know there isn't a lot to separate these sides. Anadolu, if they win on Friday night, head to Cologne on a fantastic run of form, and they will fully believe that they can defeat CSKA Moscow. Basketball fans are in for a treat.