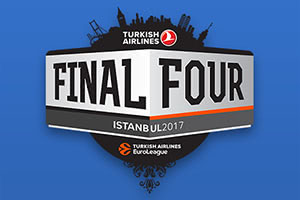 Okay, the Euroleague Final Four isn't that far away in the future, so you don't have a lot of time to place these bets, but if you're looking to wager based on the overall weekend as opposed to just the individual games, Bet365 has a few options for you.
Euroleague Final Four Odds, Tips and Predictions
To win Euroleague outright
This is a fairly simple wager, and it is one we have touched on over the course of the week in previewing the four teams, but here is a chance for you to place your money where your mouth is with respect to predicting the winner. The stated odds for all four competitors in the Euroleague Final Four are:
Playing in their own city could give Fenerbahce an advantage and this is definitely something that the bookies believe in. From these odds, it is easy to see that the bookmakers are tipping Fenerbahce and CSKA Moscow to come through their Friday night Semi-Finals, and this would give us a repeat of the 2016 Euroleague Championship game. That was a thrilling encounter that went to overtime so it wouldn't be too bad a game if that was repeated in Istanbul on Sunday.
You can compare money line, point spread and over/under odds on our Basketball Odds Comparison page. We have odds and lines of more than ten basketball betting sites, including US-friendly, to compare, and they are updated every 2 minutes.
Player to score most points
Neutrals watching this event will want to see as many points scored as possible and it doesn't really matter who scores them. However, if you are looking to add some excitement to the weekend or you want an edge in a match, or perhaps even a team or player to cheer on, how about looking at the bets for player to score most points in the Euroleague Final Four?
The bookies favourite to score the most points this weekend is Nando De Colo from CSKA Moscow, and that is a straightforward choice to make. The star man for the Russian side is listed at odds of 2.75 to grab the most points in Istanbul this weekend. Up next on the list is Sergio Llull, a player who has been scoring points consistently all season for Real Madrid, and Llull is listed at odds of 3.90. After this, you'll find that Bogdan Bogdanovic is the first player listed for the Istanbul side, and he can be backed at odds of 5.00.
Then you have Milos Teodosic, of CSKA Moscow, listed at odds of 5.50 to be the top points scorer. It is more likely that Teodosic will be the player with the most assists this weekend but he also bags vital points at crucial times. You have to go all the way down to odds of 8.00 before you come across an Olympiacos Piraeus player, and this is Vassilis Spanoulis. His fellow veteran in the Greek side, Georgios Printezis, is listed at odds of 12.00 to be the top points scorer in the Euroleague Final Four.
Bet on the Euroleague MVP
There is always a great deal of interest in who will be the MVP for the Euroleague Final Four and you can wager on this outcome too. At this point in time, the bookies have made Bogdan Bogdanovic, of Fenerbahce Istanbul, the favourite for the MVP award and you can back him at odds of 3.00. Bogdanovic's teammate Ekpe Udoh can be backed at odds of 7.00. Second favourite for the MVP title is Sergio Llull and he can be backed at odds of 4.50. If Real Madrid surge through to glory this weekend, it is likely that Llull will be a key factor in their success.
Nando De Colo was the MVP in the 2016 Euroleague Final Four and if you back him to repeat that feat, the odds are 5.50. Milos Teodosic is listed at odds of 6.50 to take the MVP title. For Olympiacos, Vassilis Spanoulis is listed at odds of 8.00 to be the Euroleague Final Four MVP and Georgios Printezis can be backed at odds of 19.00.
There are plenty of ways you can get involved with basketball betting in the run-up to the Euroleague Final Four, so wherever you are watching the action this weekend, have some extra fun by placing a wager or two.