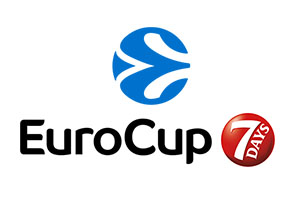 The EuroCup regular season is now over and we now know all of the teams that will be taking place when the tournament resumes with the Top 16 in 2017. There are four groups, all with four teams, and each group has at least one former winner of the tournament, which means that there is a great sense of history in the next stage of the EuroCup.
The format of the Top 16 sees each team play each other home and away during the group and the games will take place over six weeks between 4th of January and 8th of February. Every team will play six games each.
Group E
Herbalife Gran Canaria Las Palmas
Montakit Fuenlabrada
UCAM Murcia
Lokomotiv Kuban Krasnodar
Group E has three Spanish sides with Gran Canaria coming in with a 7-1 record, the joint best record in the regular season. The non-Spanish side in the group, Lokomotiv Kuban Krasnodar won the EuroCup in 2013.
Group F
Khimki Moscow Region
FC Bayern Munich
Ratiopharm Ulm
Lietkabelis Panevezys
There are two German sides in Group F and they are joined by newcomers to the EuroCup scene Lietkabelis Panevezys and Khimki Moscow Region, who triumphed in the 2012 and 2015 editions of the EuroCup.
Group G
Zenit St Petersburg
Hapoel Bank Yahav Jerusalem
Nizhny Novgorod
Lietuvos Rytas Vilnius
There are two Russian clubs in Group G and they are joined by the Lithuanian side Lietuvos Rytas Vilnius and by Hapoel, who won the tournament in 2004.
Group H
Valencia Basket
Cedevita Zagreb
ALBA Berlin
Unicaja Malaga
There are two Spanish sides in this group and they are joined by Cedevita Zagreb from Croatia and ALBA Berlin from Germany. Valencia Basket are on form, the other team to come in with a 7-1 record and they are also the only team who has won the EuroCup on three occasions, in 2003, 2010 and in 2014.
Will Valencia Basket be able to win the EuroCup for the fourth time? Will one of the previous winners take the title again or will there be a new winner for the EuroCup in 2017?
The Top 16 gets underway early January of 2017 and there is a lot of great basketball action, and basketball betting action to look forward to. We have been with the EuroCup every step of the way so far and we look forward to the EuroCup Top 16 taking place in January and February of next year.