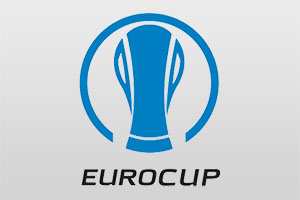 As many as 11 teams will be looking at this round of fixtures with a chance to book their spot in the Last 32, so there is sure to be a great deal of excitement and action on Tuesday and Wednesday night in the Eurocup. The week starts off lightly on Tuesday but on Wednesday night, there are 15 games to look forward to.
There are three games taking place in the Eurocup on Tuesday December 1st, which are:
Group A
JSF Nanterre v Dolomiti Energia Trento
The Group A games sees the hosts being desperate for a win to improve their 3-4 record and consolidate their chances of a qualification spot for the Last 32. Currently, JSF Nanterre are in the final qualification place for Group A. On Tuesday night, they face Dolomiti who hold a 5-2 and who could even clinch qualification this week if results go their way. The bookmakers make the hosts favourite but they think it could be a tight one. Take JSF Nanterre at -3.5 at odds of 1.90.
Group F
Nizhny Novgorod v AEK Athens
Hapoel Bank Yahav Jerusalem v Galatasaray Odeabank Istanbul
With two games in Group F, there could be a lot of big results tonight. Nizhny and AEK Athens clash in a game between two sides with a 4-3 record, and this could go to the wire. The hosts are in second place with the Greeks in fourth spot, so both teams need to win. Take Nizhny Novgorod at -5.5 at odds of 1.90. In the other game, Hapoel have to win to keep their dreams alive and they face Galatasaray who are already qualified with a 6-1 record. This should see the Israeli side as being the hungrier team, so take Hapoel Bank Yahav Jerusalem at +1 at odds of 1.90.
2 December 2015 Eurocup Regular Season Group C– Proximus Spirou Charleroi v Umana Reyer Venice
The hosts have a 2-5 record and are currently outside of the qualification places so this will be a must-win game. The away team have a 4-3 record and are currently in third place so they will be keen to hold on their spot and perhaps push on for qualification as quickly as they possibly can. Billy Baron has been in phenomenal form for the home team and if he can deliver the magic he has achieved so far this campaign, that home win may not be too far away.
Venice have benefitted from sharp play by Michael Bramos and they will turn to home once again to ensure that they are looking forward to European basketball in the New Year.
The bookmakers believe that Umana Reyer Venice will have enough about to them to build their Eurocup dreams and crush the dreams of the hosts. Take Umana Reyer Venice at -3, at odds of 1.90 and if you are looking for the Over/Under market, look to go OVER 146.5 at odds of 1.90. Bet Now!
2 December 2015 Eurocup Regular Season Group D– Aris Thessaloniki v Unics Kazan
The hosts are second in the table with a 4-2 record and the away team top the group with a 5-2 record. This is exactly the sort of game that you want to see and this could be one of the most exciting Eurocup games of the week, if not the regular season.
Jerel McNeal has been a big time player for the hosts this season and he will be the man the home fans look to bag this points on Wednesday night. He hasn't been amongst the most prolific points scorers in the league but he has played a massive role in ensuring Aris stand on the brink of qualification to the Last 32.
Keith Langford has been averaging over 18 points a game for Unics Kazan this season and he is definitely a major factor in the team's success in this game. He will likely have a big part to play on Wednesday night and if Kazan grab a massive away win, he will surely have played his part.
The bookmakers think the away team will have enough about them to take the game so take Aris Thessaloniki with a +4.5 handicap at odds of 1.90. If you are looking to take the Over/Under market, look to go OVER 146.5 at odds of 1.90. Bet Now!