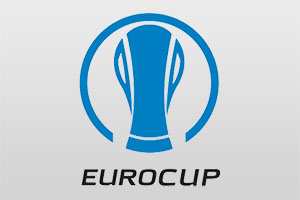 One team has already booked their sport in the Last 32 of the Eurocup and going into Round 7, there are four teams who hope to have booked their passage to the next stage of the competition.
There are four games taking place on Tuesday and then the rest of the games, all 14 of them, tale place on Wednesday 25th of November.
Games scheduled for Tuesday 24th of November are:
Group A
Union Olimpija Ljubljana v JSF Nanterre
Group B
MHP Riesen Ludwigsburg v Herbalife Gran Canaria Las Palmas
Group C
CAI Zaragoza v Valencia Basket (6-0)
Group F
Neptunas Klaipeda v Hapoel Bank Yahav Jerusalem
With a 6-0 record, Valencia have already qualified for the Last 32 but the other games on Tuesday have plenty to play for. The Neptunas Klaipeda v Hapoel Bank game is likely to be the closest, taking the hosts at -2 at odds of 1.90, is likely to be a good bet but there is value to be found in all of the four games taking place on Tuesday evening.
With 14 games to enjoy on Wednesday night, there is no shortage of basketball betting options for the Eurocup but these two games should provide an opportunity to find some excitement and value.
25 November 2015 Eurocup Regular Season Group A – EWE Baskets Oldenburg v Dolomiti Energia Trento
The hosts are currently in fourth spot in the group, sitting with a 3-3 record and they welcome the team in second place in the group, with Trento siting with a 4-2 record. This has been a fantastic welcome to the newcomers to the Eurocup and if they can grab an away result in this game they'll be looking very well placed in a tight group. No one has ran away with the group and equally no one is ruled out of the equation yet, so there is a great deal of excitement and interest left in Group A in the Eurocup.
The bookmakers are strongly backing the hosts but you'll find that there is value to be found in taking Dolomiti Energia Trento at +4.5, at odds of 1.90, in this game. Anyone looking to enjoy the Over/Under market in this game will find that going OVER 149.5 at odds of 1.90, should be a strong bet. Bet Now!
25 November 2015 Eurocup Regular Season Group F – AEK Athens v Galatasaray Istanbul
In a game between two big names in European sport and basketball, AEK Athens get to welcome Galatasaray Istanbul to Greece in a match that could be vital for both teams. The hosts currently have a 4-2 record, sitting in second place while the away team have a 5-1 record and are at the top of the group.
The hosts have been boosted by the form of Loukas Mavrokefalidis, who was named the co-MVP in Round 6 of the Eurocup. He is the current leader in scoring, 24.8 and in index rating, with 32.5, so he will likely be at the heart of what AEK Athens have to offer. It won't be easy for the Greeks though as they are coming up against the second best scoring side in the tournament, with 86.8, and the Turkish team know that if they win they could be booked into the Last 32, depending on how Hapoel Bank get on in their game on Tuesday night.
This is a very tight game with the bookmakers just making the hosts favourite. With that in mind, take AEK Athens at odds of +1 and odds of 1.90 in this game. If you are keen to take on the Over/Under market, look to go OVER 156.5 at odds of 1.90. Bet Now!