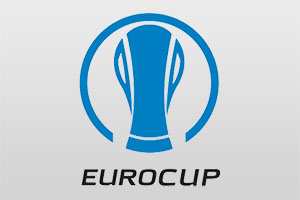 There are three basketball games to get the Eurocup action started on Tuesday night and then there are a massive 15 games on Wednesday to look forward to. The Tuesday night games are:
Group A
JSF Nanterre v Dominion Bilbao Basket
Group B
Alba Berlin v MHP RIESEN Ludwigsburg
Herbalife Gran Canaria Las Palmas v Le Mans Sarthe Basket
The bookies make Alba Berlin and Gran Canaria clear favourites in the Group B games while JSF Nanterre are tipped to get the better of Bilbao in a tighter game in Group A.
Wednesday 18th November – Group F Krasny Oktyabr Volgograd V AEK Athens
Given that Round 6 in the Europcup is the start of the second half of the regular season, these two teams have already clashed this campaign with Krasny grabbing their only win of the group in this match. However, it is a match that is probably best remembered for the individual performance of Loukas Mavrokefalidis, who grabbed 42 points in total that night, ending the evening with a Performance Index Rating of 55. Unsurprisingly, he was named MVP of the week for that showing and he managed to grab the MVP for Round 5 as well, so he will come into this game with some confidence.
Despite that opening day win, Krasny hold a 1-4 record while AEK Athens have a 3-2 lead and the Greek side will be seeking revenge in this game. While Mavrokefalidis is on form, he isn't the only player who will grace the court with a bit of confidence. This is because D.J. Cooper from Oktyabr is the Eurocup leader with 10.6 assists, the only player who is standing in double-figures in the league.
While the hosts have been on a terrible run of form of late, the bookmakers think that they will just edge a close game. This is why opting for AEK Athens with a +1.5 handicap; at odds of 1.90 is likely to be a decent bet. When it comes to the Over/Under market, you should look to go OVER 162.5 in this game. Bet Now!
Wednesday 18th November – Group B Enel Basket Brindisi v Grissin Bon Reggio Emilia
This is an all-Italian affair in group B, so it may be more of a domestic clash than a Eurocup special, but there is a lot riding on this game. The hosts have lost every game of the season so far, sitting with a 0-5 record, and they may feel that this is their best opportunity to get off the mark this campaign. Grissin currently hold a 3-2 record and they will be determined not to let things slip against a domestic rival.
In all reality, Grissin should be confident about this game because in the past two home games for Brindisi, they haven't reached the 70 points mark. This leaves them second to last in this ranking in the Eurocup and a team that is very low in confidence. However, the bookmakers appear to be pricing Brindisi as the favourites for this game.
Again, look into taking Grissin Bon Reggio Emilia at a +1.5 handicap, at odds of 1.90 for this all-Italian clash on Wednesday night. If you are interested in the Over/under market, look to go UNDER 151.5 at odds of 1.90. Bet Now!