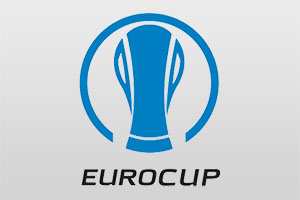 This week sees the 2015/16 Eurocup regular season reach the halfway mark and things are starting to hot up in the race to reach the Last 32 stage of the tournament. There are still three teams with a perfect record in the tournament so far but the amount of teams with one or two losses to their name indicates that this is a tough tournament.
There are some really big games this week which may determine the final placings in the Groups and we will look at two of these games now.
11 November 2015 Eurocup Regular Season Group A – Dolomiti Energia Trento v Dominion Bilbao Basket
The hosts have a 3-1 record going into this game while the away side are tucked in just behind them in the group with a 2-2 record. This is the first ever clash between these two sides and it looks as though it is going to be a thrilling game in Group A.
Dolomiti may be newcomers to the Eurocup but after an opening round loss, they have found their feet tremendously and grabbed three wins in a row. This includes a perfect start at home but this of course will be on the line on Wednesday night.
Bilbao have won both of their games on the road this season and if they can snatch another road win, they will be well on their way to enjoying the Last 32 round later on in the campaign. At some point Bilbao will need to address their poor home form but for the moment, they can maintain their focus on the road.
The hosts have scored more points in the campaign so far (343 to 337) but it is Dominion's defensive record (311 to 300) that ensures the away team has a better points difference (32 to 37) that sees them with a narrow advantage, albeit they are behind in the group.
The hosts are slight favourites for this game but this means that taking Dominion Bilbao Basket with a +1.5 handicap, at odds of 1.90, is likely to be a decent bet for Wednesday evening. Anyone that is looking to take part in the Over/Under market will find that going OVER 159.5 is a smart bet.
11 November 2015 Eurocup Regular Season Group E – Zenit St Petersburg v Besiktas Sompo Japan Istanbul
This is quite a high profile game for the Eurocup. The hosts come into this game with a 4-0 record, while their opponents have a 3-1 record. However, when the two teams clashed last season, the Turkish team won both of the games.
Zabian Dowdell has been a key player for the hosts so far this campaign, picking up 73 points in total which works out as an average of 18.3 points per game. With this sort of form you can see why Zenit have managed to win all of their games. Kyle Landry has also been crucial for the hosts and his rebounds have played a big part in the success so far.
As well as having the upper hand last season, the Turkish side have won both of their games on the road this season. They are facing a team who has a perfect record so far but the level of performances that Besiktas have delivered on the road will provide them with some encouragement going into this game. Maciej Lampe is the key man for Besitkas so far this campaign and he is averaging 16.8 points per game so far this season.
The bookmakers think this will be a tight close and the home team are just narrow favourites. Taking Zenit St Petersburg with a -1 handicap, at odds of 1.90 is likely to be a decent bet for this game. If you have an interest in the Over/Under market, look to go UNDER 165.5 at odds of 1.90.
There are 14 games to choose from in the Eurocup Round 5 on Wednesday so even if these tips don't interest you, there will be plenty of opportunities to watch some top class European basketball and place some bets.