Last 32 Comes To A Close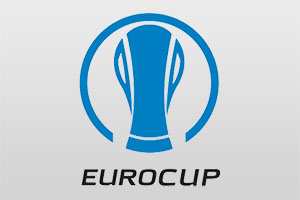 It is at the do or die stage in the Last 32 of the Eurocup. One game takes place on Tuesday night and then there is a whopping fifteen games to look forward to on Wednesday. Eight teams have already booked their place in the next round, which means that eight positions will be filled in the next few days, which means that there is a great deal of excitement on offer in the Eurocup this week.
9 February 2016 Eurocup Last 32 Group J – ALBA Berlin v Neptunas Klaipeda
This is the only Eurocup game taking place on Tuesday night and it is a make or break game for both of these teams involved. Milan are already qualified from the group, with a 4-1 record, and they face Aris Thessaloniki on Wednesday evening which means that the players from ALBA and Neptunas can focus on their own challenge.
Both of these teams hold a 2-3 record and things are very simple for the home team. If the Berlin side wins, they will qualify for the next round, if they lose, they are eliminated.
Neptunas know that a loss eliminates them but a win will see them waiting for the result on Wednesday night. If Neptunas win on Tuesday and Milan win on Wednesday, Neptunas qualify from Group J ​but a Neptunas win and an Aris win would book passage for the Greeks so it could be a nervous 24 hours for the team from Klaipeda.
Elmedin Kikanovic has been in fine form for the hosts and if he can continue his scoring form, the Berlin side will be looking good for qualification. However, Daniel Ewing has performed well for Neptunas and it could be that he has the final say on this game.
The bookmakers are very confident about the home team's chances for this one but it could be closer than they think. The Berlin side should qualify but taking Neptunas Klaipeda at +8.5, at odds of 1.90, isn't a bad bet. For the Over/Under market, look to go OVER 148.5, which you can find at odds of 1.90. Bet Now!
Wednesday 10th February
Group N is the only group where no team has yet qualified, and this is likely to be the group that most people focus on. Three teams have a 3-2 record while Szolnoki Olaj lag behind with a 1-4 record. The biggest game in the group comes in Turkey where Galatasaray Odeabank Istanbul host Dinamo Banco di Sargena Sassari. At this stage, Galatasaray are first in the group while Dinamo are second.
If the Turkish side win, they quality and if the Turkish side lose but Szolnoki defeat CAI Zaragoza, Galatasaray take second. Therefore, the only collection of results that will see Galatasaray eliminated will be a Dinamo Sassari win and a CAI Zaragoza win.
For Zaragaoza, they will top the group if they win and Sassari win. They will take second place in the group if Galatasaray win, regardless of their own score and they will be eliminated if Szolnoki Olaj and Dinamo Sassari both win.
For Dinamo a win is vital. A Dinamo win coupled with a Szolnoki Olaj sees Sassari take first place and a Dinamo win couples with a CAI Zaragoza win sees Dinamo take second place. A Dinamo loss, regardless of what happens in the other game will see Sassari eliminated.
10 February 2016 Eurocup Last 32 Group N – Galatasaray Odeabank Istanbul v Dinamo Banco di Sargena Sassari
The Turkish side should grab the win but again, it may be closer than the bookmakers predict which is down to the fact that there is so much at stake. Taking Dinamo Banco di Sargena Sassari at +8.5, at odds of 1.90 is likely to be a good bet for Wednesday evening. If you are keen on the Over/Under market, look to go UNDER 159.5 at odds of 1.95. Bet Now!
10 February 2016 Eurocup Last 32 Group N – Szolnoki Olaj v CAI Zaragoza
The hosts are big favourites for this game and you have to say that is justified with everything that is at stake. You should look to take CAI Zaragoza at -8.5, available at odds of 1.85. For the Over/Under market, looking to go OVER 154.5, at odds of 1.85, is likely to be a decent bet in this game. Bet Now!