Round 5 of 6 gets underway in Last 32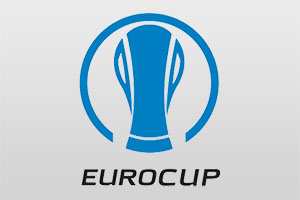 Moving into the penultimate round of the Eurocup means that we are on the brink of seeing a number of outcomes being decided in the Last 32. This week may be make or break for many teams and there is certainly everything to play for this week.
There is a very casual start to the week's basketball action with only one game taking place on Tuesday night. This means that Wednesday night is a bumper evening of European basketball and by Thursday morning, things will be an awful lot clearer when it comes to knowing who is going to make progress from the groups and who is going to have their European ambitions dashed for the campaign.
2 February 2016 Eurocup Last 32 Group K – Trabzonspor Medical Park v Pinar Karsiyaka Izmir
As you would expect at this stage of the campaign, this is a big game that will have a massive impact on who qualifies from the group. The home team have a 2-2 record so far while the away side has a 1-3 record and they need to win. If Pinar lose, they will be eliminated from the competition so the stakes couldn't be higher for the away team in this all-Turkish clash.
If the hosts win the game, they'll put Grissin Bon Reggio Emila under pressure for their Wednesday night game, and with them also holding a 2-2 record, hosting Dolomito Engergia Trento (3-1) it could be a brilliant week for Trabzonspor before we head into the final week of Group K in the Eurocup. Dwight Hardy has been a monumental player for the host team this season in Europe and if he can deliver another strong performance, things will be looking food for the hosts to progress.
The bookmakers think it is tight but the hosts have the slight edge and you should look to take Trabzonspor Medical Park at -1.5, which you can find at odds of 1.90. Anyone with an interest in the Over/Under market should look to go OVER 154.5, which again can be found at odds of 1.90. Bet Now!
3 February 2016 Eurocup Last 32 Group M – Union Olimpija Ljubljana v Maccabi FOX Tel Aviv
The hosts are already eliminated from the Eurocup and no matter how the Group M results pan out on Wednesday, the Israeli side are not going to be able to qualify for the next stage of the tournament this week. However, Maccabi currently hold a 2-2 record, as does Nizhny Novgorod and these two teams meet in a do-or-die clash next week, so it is crucial for the away team to get a win in this one.
The fact that Nizhny are up against Unics Kazan this week will give Maccabi hope but of course, Unics have a 4-0 record and have already qualified for the next round, so they may not be at their best. This means that there is no room for slackness or complacency on behalf of Maccabi and you can bet that Union will be determined to finally give their fans something to shout about in the Eurocup Last 32.
The away team are clearly favourites and you get the sense that they'll be pushing hard for victory in this game. This means you should take Maccabi FOX Tel Aviv at -7.5, which you can find at odds of 1.90. If you are looking for the Over/Under market in this game, you should look to go OVER 154.5, which you can find at odds of 1.90. Bet Now!
3 February 2016 Eurocup Last 32 Group J – EA7 Emporio Armani Milan v ALBA Berlin
This is a game between two teams with a great reputation in European basketball and it is also a matchup between first and second place in Group J in the Last 32 of the Eurocup. The hosts know that a win sees them through to the next stage of the tournament and the German side know that a win allied to an Aris Thessaloniki win would be enough to leave them qualified this week.
Alessandro Gentile has still be a massive player for the Italian side after the step-down from the Euroleague (have a look at our Euroleague tips) and Elmedin Kikanovic has been an instrumental figure for the German side in the Last 32.
The bookies think the hosts are big favourites but taking ALBA Berlin +7.5 at odds of 1.90 could be a good way to bet on Wednesday. For the Over/Under market, you should be looking to go OVER 148.5 which you can find available at odds of 1.90. Bet Now!
There are 15 games in total taking place on Wednesday night, so there will be no shortage of European basketball betting options to choose from but remember, at this stage of the season when the pressure is on, it can be difficult to confidently determine what will unfold on the court.