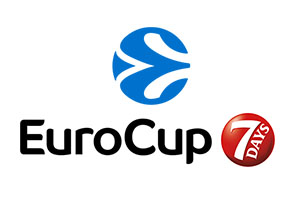 The Top 16 stage of the EuroCup has concluded and fans of 8 teams can now look forward to the quarter-final stage which will take place in February and March of this year. The top two teams from four groups progressed from this stage.
Group E Qualifiers
Lokomotiv Kuban Krasnodar
Herbalife Gran Canaria Las Palmas
Group F Qualifiers
FC Bayern Munich
Khimki Moscow Region
Group G Qualifiers
Hapoel Bank Yahav Jerusalem
Zenit St Petersburg
Group H Qualifiers
Valencia Basket
Unicaja Malaga
The qualifiers mean we have three Spanish sides, three Russian sides, a German side and an Israeli side making up the quarter-finals.
Quarter-final ties
The quarter-final ties will be played in a best-of-three format with the games taking place on February 28th, March 3rd and March 8th (if required). If any team takes a 2-0 advantage by the end of the second game, there will be no need to play the third tie. The four winners will progress to the semi-final stage of the tournament.
Quarter-final A: Lokomotiv Kuban Krasnodar vs Zenit St. Petersburg
Quarter-final B: FC Bayern Munich vs Unicaja Malaga
Quarter-final C: Hapoel Bank Yahav Jerusalem vs Herbalife Gran Canaria Las Palmas
Quarter-final D: Valencia Basket vs Khimki Moscow Region
Quarter-final A is an all-Russian tie but there is no all-Spanish affair with the Spaniards being drawn out against representatives from the other nations.
At Basketball Betting, we are already looking forward to these ties. The 8 teams have shown great form over the course of the season and it is likely that there will be a high level of competition in these matches. We may have a few weeks to wait until these games are played but you can guarantee that we will be available with previews and betting odds on these basketball matches.