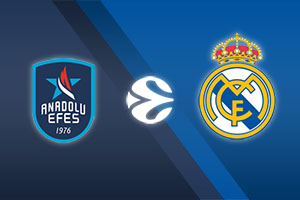 The action is underway in the EuroLeague PlayOffs, and four of the eight teams left in the tournament have played their first game. We have two more Game 1's on the go on Wednesday night, but we are already excited for Game 2 action, which gets underway on Thursday 23rd April.
Anadolu Efes Istanbul vs. Real Madrid
The first game in this clash took place on Tuesday, and then final score was:
Anadolu Efes Istanbul 90 vs. 63 Real Madrid
This was a massive win for the home team, crushing Madrid and boosting their chances of making it through to the Final Four. With the second game in the series also taking place in Istanbul, there is a lot riding on the Thursday night action.
As you'd expect from the final score, the hosts dominated the match, but the opening half was close. Anadolu led at every break in the game, but at the close of the opening quarter, there were only 2 points in it, the hosts leading 20-18.
By half-time, the lead had increased slightly, coming in at the half with a score of 44-40 in favour of the hosts.
However, the third quarter saw a gap open up between the teams. That 4-point lead quickly became a 14-point lead, setting us up for a grand finale. Of course, Madrid fell away, with Anadolu taking the last quarter by a score of 26-13, resulting in then final score of 90-63.
Five Istanbul players made it to double-figures for points with Rodrigue Beaubois leading the way with 19 points. Sertac Sanli grabbed 16 points, Shane Larkin provided 14 points, Bryant Dunston offered up 11 points and Krunoslav Simon notched 10 points.
Trey Thompkins led the way for Madrid, grabbing 13 points, with the only other Real player in double figures being Walter Taveres, who sneaked in with 10.
So, Madrid aren't quite at the do or die stage of the tie, but they are edging closer there. They know they need to carry out a massive turnaround in a very short time to get themselves back into this matchup. It isn't beyond Madrid, this is a team who turns up trumps time and time again.
However, it is fair to say this season's Real Madrid are not the same vintage of previous seasons. If Anadolu hold their nerve and bag another home victory, they will stand on the brink of the Final Four. If you fancy Anadolu to come out on top yet again over Real Madrid, why not place a bet on the outcome of the match?