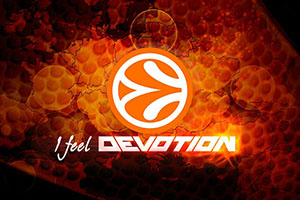 The last team has now booked their passage to the Final Four in Berlin next month and it was the home fans that were cheering at the end of the fifth game in the longest running series in this year's Euroleague playoffs. Three teams were done and dusted with clean sweep victories but this was the match-up that didn't want to end but it is the team from Krasnodar that clinched the 3-2 win with an 81-67 triumph over their Catalan opponents.
The score line makes it seem a convincing victory but at the start of the fourth quarter, the away team were five points in the clear and looking relatively good for a place in the Final Four. This was the point for Chris Singleton to step up though and his back to back three point shots turned the game, the night and the series. These two shots were the opening salvo in a 14-0 scoring run that put the hosts on easy street long before the end of the game. Singleton grabbed 11 points in this 14 point scoring run and he can be very proud of his efforts, posting 16 points and 12 rebounds in total for a stylish double-double that will be long remembered by Krasnodar fans.
Both teams had a period of dominance
The hosts were only able to pick up 8 points in the third quarter with the Catalan club bouncing back from an 11 point deficit but in the end, it was the hosts that timed things to perfection. The lead man over the course of the evening for the hosts was Malcolm Delaney and he grabbed 17 points. Ryan Broekhoff managed to deliver 14 points while Matt Janning reached 10 points with 8 coming in the final quarter. For the away side, Stratos Perperpoglou served up 13 points, Juan Carlos Navarro grabbed 12 points and Tomas Satoransky provided 8 points.
The Euroleague 2016 Final Four
Semi Final A on Friday 13th of May
Fenerbahce Istanbul v Laboral Kutxa Gasteiz Vitoria
Semi Final B on Friday 13th of May
CSKA Moscow v Lokomotiv Kuban Krasnodar
The second semi-final means that there will definitely be a Russian team in the Euroleague Championship Game which takes place on Sunday the 15th of May.
All four teams have some time to focus on domestic duties and ensure they are in the right frame of mind for the end of season finale.