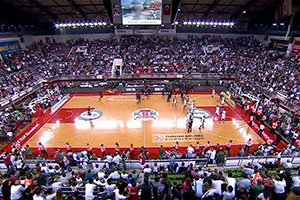 It seems like a long time since Real Madrid were crowned champions of the 2014/15 Euroleague season but for European basketball fans, the wait is over. On Thursday night, the league roared back into action with all of the four groups of the regular season seeing some games. There were new names and familiar faces on board but even though it was a new season, there was still plenty of the same old drama and excitement that we come to expect from the Euroleague.
Group A
There was just the one game in Group A on Thursday night and the hosts got off to an excellent start.
Crvena Zvezda Telekom Belgrade 81 – Strasbourg 59
This was rout in the capital of Serbia as the Belgrade side set about showing Strasbourg what life is going to be like in the Euroleague this season. To be fair to the French side, they took an early lead and were offering good value but in the second quarter, the home side went on a 15-2 run and the game was never in doubt or danger from that point forwards.
Maik Zirbes was a key man for the winners, grabbing 18 points and 7 rebounds. He was ably assisted by Luka Mitrovic, who picked up 13 points, Stefan Jovic, with 12 points and 5 assists while Ryan Thompson provided 11 points. For Strasbourg, it was a learning experience and they know that they cannot afford to commit 25 turnovers in this league. Roddy Beaubois offered up 17 points, Vladimir Golubovic provided 12 points and Jeremy Leloup offered up 11 points for the away side.
Group B
It may have taken until the end of the third quarter for the hosts to push on with this game but when they did, there was no stopping them.
Olympiacos Piraeus 76 – Cedvita Zagreb 61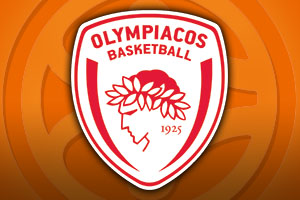 Picking up the final 11 points of the third quarter made all the difference in this game with the Greek side finally creating some daylight between them and their opponents. Georgios Printezis showed he lost no talent or energy over the summer, providing 20 points and 8 rebounds for the winners. He was assisted by Patric Young who offered 16 points, 6 rebounds and 4 blocks for the hosts. With Matt Lojeski offereing 14 points and 10 rebounds with Vangelis Matzaris providing 11 points, there were plenty of big name players on point for the hosts. If there was a surprise, it was the fact that Vasilis Spanoulis could only offer 5 points, but he did provide 7 assists as well.
Jason Pullen gave Zagreb some hope with 18 points while Tomislav Zubic provided 16 points and 6 rebounds. Miro Bilan scored 10 points for the losing side.
Group C
The opening game of Group C was always going to be an historic one for the local fans but they probably never realised how memorable it would be.
Pinar Karisyaka 71 – FC Barcelona Lassa 62
This was Pinar's Euroleague debut and they marked the occasion by downing one of the best known teams in the league. Just before the end of the first half, Pinar took the lead and they stayed in front for the rest of the game, holding off Barcelona with good styke. In the third quarter the hosts achieved an 8-0 run and then later on in the same quarter they delivered a 10-0 run, which put them on to a 54-38 lead.
Colton Iverson was in fine form, offering 16 points and 8 rebounds for the hosts while Kenny Gabriel provided 12 points and 10 rebounds for a double-double. Justin Carr offered 11 points and Joe Raglans scored 10 points in the win. For Barcelona, Justin Doellman provided 14 points and 7 rebounds while Stratos Perperoglou notched 11 points.
Group D
The main focus of Thursday night was in Group D with all three group games taking place.
CSKA Moscow 100 – Maccabi FOX Tel Aviv 69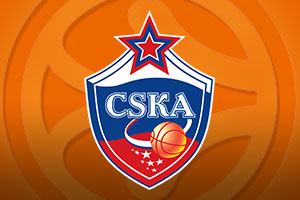 After last year's perfect regular season, the Russians look as though they are ready to do so again this season. They demolished Maccabi, although this is only their second biggest home win against the Israeli side, back in 2013/14, CSKA won by a margin of 100-65.
Nando De Colo provided 17 points; Milos Teodosic offered up 15 points, Aaron Jackson helped himself to 12 points and 7 assists, Vitaly Fridzon provided 11 points and Demetris Nichols grabbed 10 points for the winners. For Maccabi, Jordan Farmar offered 17 points, Taylor Rochestie grabbed 14 points and Yogev Ohayon offered 13 points. Maccabi held an 11-14 lead early on but after just 10 minutes they were already trailing 29-20 and the night didn't get any better from that point.
Darussafaka Dogus Istanbul 83 – Dinamo Banco di Sardegna Sassari 74
It may have taken overtime to clinch it but the Turkish side held on at home and grabbed a massive win against their Italian opponents. The away started strongly and were 11 points ahead at one point but the hosts rebounded to have a marginal 32-31 lead at half-time. No one was able to grab control of the game and a late triple served up by Emir Preldzic took the game into overtime. It was all about the home team in the additional period and they grabbed a huge win in front of their fans.
Milko Bjelica scored 15 points and 7 rebounds while Reggie Redding grabbed 12 points and 9 rebounds. Jamon Gordon provided 12 points and 7 assists and while Marcus Slaughter provided 10 points, 8 of them came in the last 90 seconds of regulation time, so his input was crucial. For the losers, Rok Stipcevic provided 14 points while MarQuez Hayes served up 12 points.
Unicaja Malaga 76 – Broske Baskets Bamberg 71
This was the first time that Malaga grabbed a regular season home win against their opponents. It was a close game throughout the contest but the Spanish side always looked to have the upper hand. Mindaugas Kuzminskas offered up 18 points for the hosts while Richard Hendrix provided 10 points for the winners. For the losing side, Nikos Zisis provided 16 points. Janis Strelnieks offered 13 and Nicolo Melli scored 10 points.
All in all, it was a night of home wins in the Euroleague with all of the home fans getting to enjoy the start of a new campaign with a win. The gauntlet has been thrown down for all of the home teams who are set to play on Friday the 17th of October in the Euroleague.