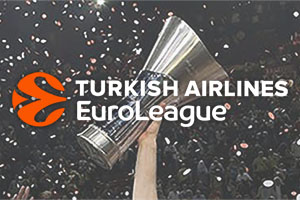 The 2016/17 season sees the Euroleague taking on a whole new look. This is because in 2015, FIBA launched a campaign to take control of the top tournament in European basketball. They aimed to welcome 8 of the top teams from the Top 11 in European basketball to come to their new tournament. This was rejected unanimously by the clubs of the Euroleague.
Later in the same year, FIBA made another attempt to seize control of the Euroleague, proposing a 16 team league that is played out in a Round Robin format. In November of 2015, Euroleague Basketball announced a new format from the 2016/17 season, which would feature 16 teams.
The format of the new season will see each team play every other opponent twice and at the end of this campaign, which will see teams play 30 games; the top 8 teams will make it through to the Playoff Round.
There will be four separate ties in the Playoff Round and the ties will be Best of 5 series. This means that the team who picks up 3 victories in the series will progress to the next round.
The Final Four is still the climax to the Euroleague season
The four winners in the Playoff Round will make their way through to the Final Four.
The breakdown for participation in the Euroleague is as follows:
11 teams gain entry due to holding a permanent Euroleague franchise
3 teams gain entry due to being domestic champions or being the highest ranked team in their domestic league who had not already qualified.
1 team gains entry after winning the Eurocup
1 team gains entry as a wild card selection
The 11 Euroleague franchise teams are:
Anadolu Efes
CSKA Moscow
EA7 Emporio Armani Milan
FC Barcelona Lassa
Fenerbahce
Laboral Kutxa
Maccabi FOX Tel Aviv
Olympiacos
Panathinaikos Superfoods
Real Madrid
Zalgiris Kaunas
The 3 teams who qualified via their domestic are:
BC UNICS Kazan
KK Crvena Zvezda
Brose Bamberg
The Eurocup winner was Galatasaray S.K.
The wild card selection was Darüşşafaka S.K.
The breakdown of the tournament by nation is as follows:
4 teams from Turkey
3 teams from Spain
2 teams from Russia
2 teams from Greece
1 team from Italy
1 team from Lithuania
1 team from Serbia
1 team from Germany
1 team from Israel
The first round of matches will be played in the week of 12th of October.