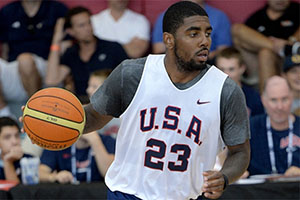 While there will be NBA fans eagerly counting down the weeks and days until the start of the new NBA campaign, there is no need to wait that long to see some of the finest NBA players in action. This summer in Spain there will be a chance to see some of the finest players in the NBA and even the most excited fans of the summer of 2014 will have something to look forward to.
While every basketball fan in Cleveland is probably still walking about with only thoughts of LeBron James in their head, there is a lot for fans to look forward to during this summer's World Cup. They may be rushing to the bookmakers to place futures bets on the 2014/15 NBA Championship, but there are also futures betting opportunities for the 2014 FIBA World Cup which may be of benefit and interest.
Dion Waiters and Kyrie Irving are looking to be included in the roster for Team USA but there is also a smattering of Cavs stars who will be turning out for other countries and fans will not have long to wait to see one of their players in action. This is because Anderson Varejao is likely to be included in the Brazil squad and they will be competing against France very early on in the tournament. If fans are looking to get an interest in the tournament as early as possible, this could well be the opportunity that sees Cleveland fans buying into the 2014 FIBA World Cup in a big way.
Cavaliers fans will also be able to look out for Matthew Dellavedova, who is hoping to line up for Australia this tournament. The Aussies get their campaign underway against Slovenia, in a match played out in Gran Canaria, and they'll be relying on the experience of Dellavedova, who has already appeared in five different FIBA competitions in his career.
Top names are playing at the top event
Perhaps the Cavs fans will prefer to see other NBA players perform at this summer's event. After all, when you are watching your own players play for their country, you'll have concerns about them picking up injuries, which could see them ruled out of performing for your team. When it comes to other top players, you can relax a bit more, safe in the knowledge that there are some great players involved but if anything bad was to happen, at least your team wouldn't be negatively impacted by it.
Spain will be able to call on NBA stars like Serge Ibaka, Ricky Rubio, the Gasols (Paul and Marc), Jose Calderon and Rudy Fernandez. Argentina may have lost out on Manu Ginobili after the Spurs refused to sanction his appearance at the event but they will still be able to call on NBA stars like Luis Scola, Carlos Delfino, Pablo Prigioni and Andres Nocioni. Brazil will be able to have Tiago Splitter, Leandro Barbosa and Nene Hialrio in their squad while France will call on Nande deColo, Boris Diaw and Nicolas Batum.
There will also be NBA stars lining up for Serbia, Croatia, Greece, Puerto Rico, Mexico, Senegal, Dominican Republic, Turkey and Lithuania. All of which means that there will be plenty of games featuring players from the big league and there will be plenty of games where NBA stars clash on the courts of Spain. This should help to keep NBA fans excited in August and September of 2014.