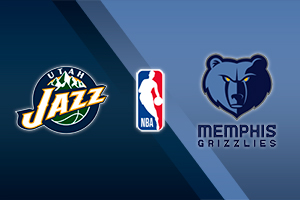 We are witnesses to an exciting series in the West, the one between the Grizzlies – that are surprisingly competitive so far – and the Jazz, who weren't expecting such a formidable opposition by the team from Memphis.
Utah managed a break in Game 3 (121-111), but that came more difficult than the final score indicates. Memphis was behind throughout the game, sometimes on a double-digit difference. However, in the 4th quarter, the Grizzlies found a way to slow down the Jazz pace and managed to take the lead (109-107) with five minutes remaining.
It was then that the Utah superstar Donovan Mitchell took action (29 points, five assists) and, with consecutive points, led his team to a crucial victory! Gobert (15 points, 14 rebounds, 4 blocks) and Conley (27 points) were also crucial for Quin Snyder's team.
On the other hand, for the Grizzlies, the usual suspects stood out; Ja Morant (28 points, 7 assists), Dillon Brooks (27 points), Valanciunas (10 points, 13 rebounds, 5 assists), Grayson Allen 17 points).
The two gladiators do not suffer from injury problems and will play with complete lineups tonight.
Our prediction: Memphis Grizzlies +6.5