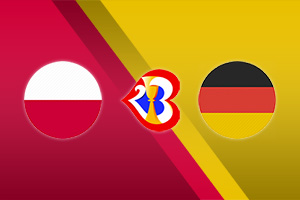 A group of 4 teams (Group D – Germany, Poland, Israel, Estonia) will fight for the qualification to the next phase. Unfortunately, only three teams will make it, with each one "carrying" their results from this one.
The 2023 World Cup will be held in Indonesia, Japan and the Philippines. Countries with little to no experience in this area but with lots of love for the sport and the latest obsession for FIBA would want to see basketball "exploding" on that side of the planet.
A poor start in the qualifiers for Poland after losing to Israel (69-61). However, the truth is that they played with significant absences. The most important are those of forward Ponitka, who did not get permission from Zenit to travel and play, as well as of guard Michalak of Ogdensburg, who was injured. Forward Lukasz Kolenda was the top scorer for coach Igor Milicic's team with 16 points. Milicic saw his players shooting 6/32 outside the 6.75m line. The easy qualification to the Eurobasket and the recent 8th place in the Mundobasket created expectations for the Poles, so the qualification is one way for them.
Shock defeat for Germany in the premiere of the qualifiers! The Panzers lost 66-69 at home to Estonia, except Bamberg forward Christian Sengfelder – who had 21 points and 9 rebounds – no other player made his presence felt on the court. As the experienced German coach Gordon Herbert stated, his team underestimated the opponent. Valuable forward of Zalgiris, Niels Giffey, is ruled out for today's game due to covid – 19.
Our Prediction for Poland vs Germany: Germany Win