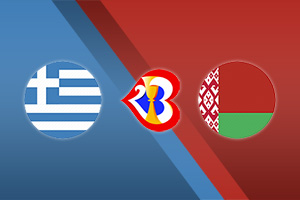 A group of four teams (Group B – Greece, Turkey, Great Britain, Belarus) are fighting to qualify to the next round. The first three will advance, "taking" with them all the results from the current stage.
The 2023 World Cup will be held in Indonesia, Japan and the Philippines. A joint hosting by three huge basketball markets that have never attempted anything similar.
Greece started its games in the qualifiers of the European zone with a defeat. On Thursday, Greece lost to Great Britain in Newcastle (78-69), despite being ahead by 15 points at the beginning of the third period (33-48). Dimitris Agravanis and Nikos Gikas were the only double-digits with 19 and 14 points, respectively. Nikos Rogavopoulos had 6 points and 9 rebounds. Greece will have coach Sotiris Manolopoulos sitting on the bench today after missing the trip to England due to covid – 19. However, the Greek roster for the afternoon game in Thessaloniki (at "Nick Galis Hall") has been strengthened with the addition of forward Leonidas Kaselakis of Panathinaikos.
Belarus entered the qualifiers in the best possible way. The – theoretically – weakest group team defeated Turkey 84-70 at home and showed that it would not be easy prey for anyone.
For the Belarusians, the two best players of the team, tall man Artsiom Parakhouski (who plays in the Euroleague), who had 16 points with 8/10 shots and 9 rebounds, and forward Maksim Salash (player of Burgos), who had 26 points with 10/17 shots made a dramatic difference.
Our Prediction for Greece vs Belarus: Belarus +12.5 Points