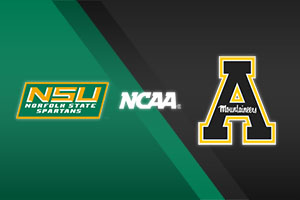 Appalachian State needed plenty of… "presents" from their fellow competitors to make it through the Sun Belt tournament. They had to win four games, including two that were played in overtime! The Mountaineers finished 7th in their conference, with a 7-8 record and lost 6 out of their 7 last games towards the end of the regular season. This isn't a performance to remember, and they need to improve significantly if they want to make their presence noticeable in the upcoming tournament.
Game is played at neutral territory
Norfolk State is a whole different story. They tied in the first position of the MEAC's northern division. But more noticeably, they won 7 of their last 8 games! The Spartans led the league in 3-points percentages (36.9%), turnovers (avg 13.1) but also on their field goal defence (40.3%). Key to remember before tonight's clash: Devante Carter, a point guard that has transformed the teams game, and he is defo the guy that the Scouters will be looking at during Thursday's game. He ranked 5th in both the MEAC scorers ranking (average 15.5) and assists ranking (4.0).
Our tip for No. 16 Norfolk State vs. No. 16 Appalachian State: Norfolk State +5.5 Win
Have a look at our comprehensive March Madness Betting Guide. We encourage you to read this guide if you are new to – or want to know where to wager on the NCAA Basketball tournament.