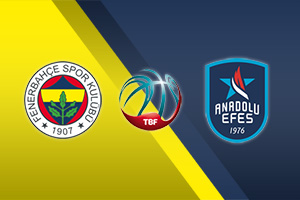 Fenerbahce (3-0 record in the Turkish league) had an outburst on Thursday against Unics Kazan (80-41), thus improving its Euroleague record to 2-2. Sasa Djordjevic's players showed amazing energy in defence and did not allow the Russians to breathe in the 40 minutes of the match. Shayok (G, 17 point, 4 rebounds, 5 assists) topped his teammates with his performance while Booker added 16 points and 5 rebounds Serbian coach Djordjevic now feels more comfortable on his bench, although the season has a long way to go. German power forward Barthel is still injured and will return in a month.
European champions Efes (3-0 record in the Turkish league) cant find a pace in the Euroleague. There are four match days in the new season, and they remain without a win (0-4), and there is a reasonable concern whether they can achieve back-to-back victories in the competition. They lost in Milan to Armani last Friday (75-71), probably easier than the final score shows. Micic (17 points), Larkin (13 points), Moerman (12 points) and Petrusev (10 points) finished the game, scoring double digits. Simon (G/F) and Anderson (SG) haven't played recently, and it seems unlikely that this will happen today either.
We need to add finally that there is a five foreign player limit when playing for the Turkish League, which means that both teams will play without some of their stars in the Euroleague.
Our prediction: Fenerbahce Win