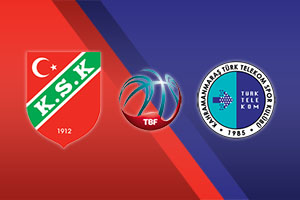 Karsiyaka failed to "deliver the parcel" in the series against Turk Telekom. They had the chance to do so in the second match, but things didn't go as planned. Today they are obliged to leave the court victorious if they want to qualify to the semifinals of the Turkish League, where Fenerbahce is already waiting for them. Game 2 was a real derby at the home of Turk Telekom. The match was balanced throughout, and it was only decided at the end (76-70 in favour of the hosts).
Karsiyaka's top player was once again centre Raymar Morgan (15 points, 9 rebounds). Tony Taylor, Sek Henry and Amath M' Baye, all had an awful day when it comes to their scoring duties: they made only 7/28 of the total shots.
And Turk Telekom proves they are too hard to die… After a solid performance in Game 1, the Ankara team dominated in the second and sent the series to a third game. The paradox for Burak Goren's team is that they managed to grab the victory, despite that Kyle Wiltjer and Sam Dekker scored only 2 and 9 points, respectively (1/8 and 4/13 shots, respectively). Coach Goren dropped center Johnny O'Brien from the squad due to the five foreigners rule that has been imposed on the Turkish League teams. He has added instead American guard Kamar Baldwin, who was excellent with 12 points and 8 rebounds!
Our prediction: Turk Telekom +7.5 points