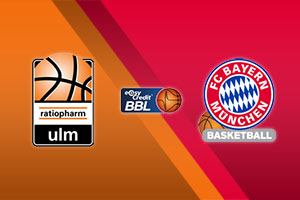 Ulm will face the host of the German Cup Top Four tournament, Bayern, in the first semi-final early this afternoon at the Audi Dome in Munich. This game will be followed by the other semi-final between Gottingen – Alba Berlin. The final of the tournament will take place on Sunday night.
Ulm (currently 7th in the Bundesliga with an 18-11 record) extended the contract of the Slovenian coach Jaka Lakovic a few hours ago. A coach who had a great career in Europe with the jerseys of Panathinaikos and Barcelona. The most valuable players of Ulm this season are scorer Cameron Clark, international guard Andreas Obst, American playmaker Troy Caupain (12.3 points, 4.1 assists) and the top player scorer, center Dylan Osetkows 14.1 points, 6 rebounds).
On the other side, Bayern (23-7, 3rd in the Bundesliga) celebrated last week a historic qualification to the Euroleague playoffs (the first-ever German team to accomplish that). Andrea Trinchieri and his players are thinking already about the series against Armani for the top-8! The medical record for the Italian coach is empty, but his team carries a lot of fatigue. Saturday game will be the 16th game for the Bavarians in the last 30 days…
Our prediction: Ulm +10.5 Bet Now!